In a bid to foil efforts of Igara West's MP Rapheal Magyezi to have article 102 (b) amended and presidential age limit scrapped, opposition legislators have said they are starting country-wide rallies to educate Ugandans about the dangers of the bill.
The Leader Of Opposition Winnie Kizza, while at parliament yesterday, said this strategy will start effective Friday October 13.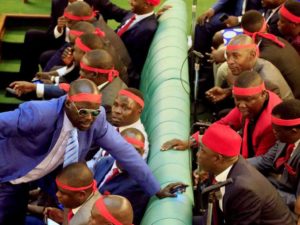 "We are beginning tomorrow in Kireka. We shall be with Hon Ibrahim Ssemujju Nganda. Still [October] 13, we shall be in Nakawa, helping out the honorable MP Michael Kabaziguruka," Kizza said.
The Kaseses MP also accused IGP Kale Kayihura of high handedness when handling the members of opposition especially during this period when several bills aiming at constitutional amendment are before parliament.
She said they do not expect police to foil these nation-wide campaingns even if they operate in the interest of the state.
"The law does not say we ask for permission; the law tells us to inform police. It is now entirely up to Kayihura to organise security where ever we shall be. We have given him all the contact numbers of those who will be mobilising and coordinating.
However government's chief whip and Kiboga MP Ruth Nankabirwa said there will an NRM caucus meeting of Friday October 13 to devise a way forward.
"This matter is not a matter of rallies: it's a matter of engaging leaders, quoting constitutions [like] Ugandan constitution and how the East African countries and how they are doing it," Nankabirwa said.
Comments
comments