Lecturers at Uganda's oldest university, Makerere, have vowed to lay down their tools of work should the government fail to trace and enforce findings of the visitation committee that was chaired by the late Dr Abel Rwendeire. This was announced yesterday October 12 during a press conference that the dons convened at the institution under their umbrella body Makerere University Academic Staff Association (Muasa).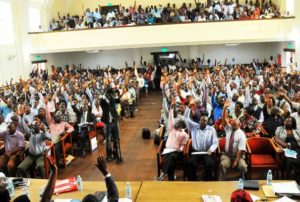 The Muasa chairman Dr Muhammad Kiggundu said the sudden death of Rwendeire about two weeks ago has caused a situation of uncertainty on the side of lecturers who had high expectations in the findings of his committee.
"Because if it [the report] doesn't come, the problems will persist and people will strike again strike. There is no short cut to that because if their problems are not solved, what do you do?" Kiggundu wondered.
He argued that they are  sure the committee completed its work and there should be no delays in releasing the report.
"Before Dr Abel changed geography [died], we made engagements with him and he said, 'we are just waiting for the time to make this report known to the president who instituted the committee. So we know that the committee's work is over and the findings should be tabled. But the university is kept in suspense every time, people don't know what the findings are like and we also want to have a better institution," he said.
Additionally, Muasa also wants the government to sort the disparities between salaries for lecturers in different public universities, with Kiggundu arguing that Makerere staff should be getting more pay because of their better education levels.
Kiggundu said that when the government released money to cater for an increment in salaries for staff in public universities, it was not distributed equitably, a reason Makerere staff is demanding for harmonisation.
"[The university] council promised that the harmonisation of salaries would be handled expeditiously but up now, no results have been given out and we are only asking council that the patience is running out, and within two weeks, we need results on harmonisation," Kiggundu demanded.
President Museveni instituted the Makerere visitation committee last year in November shortly after he ordered for the closure of the university due to staff and students' strikes.
The committee's terms of reference mainly included probing the financial woes of the university that seemed the cause of the cause of strikes.
Comments
comments