A few years back, rapper Don MC (Wherever he is now), had a song about girls not having "No" in their vocabulary! Well, the First Lady Janet Museveni has echoed these statements, shockingly, on a much larger scale.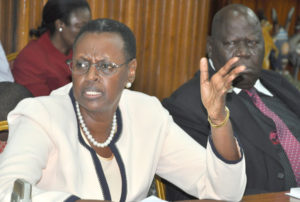 While addressing International Day of the Girl Child gathering today in Kyenjojo, Janet expressed disappointment with elements in government who have been promoting dangerous Western ideologies at the expense of the future generation just because they want to make a quick buck. She was speaking about the shocking proposal to give underage girls pills which she explained that was a move to promote abortions.




"Our society has lost all pride and can't say no to anything.Those people who give us money have a different agenda – to destroy our society", she stated.
"They'll give you a lot money, give you an expensive phone, maybe even car so you can promote abortions and giving pills to underage girls. But that is not who we are. We are society with values and morals".




–
Comments
comments