The High Court has ordered government to pay Shs80 million to each of the 22 Andrew Kaweesi murder suspects who were detained and tortured in Nalufenya prison.The order was made by Justice Margaret Oumo Oguli.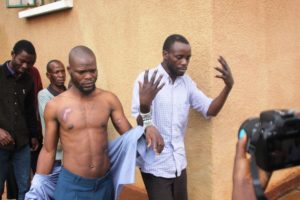 Oguli warned government that a 20% interest rate would accrue from the day of her ruling to the date of payment.
Police spokesperson, AIGP Andrew Felix Kaweesi was shot dead together with his bodyguard and driver in March as he left his home in Kulambiro.
The 22 suspects through their lawyers led by Ladislaus Rwakafuuzi sued government for torture and inhumane treatment by police and the UPDF during their arrest early this year.
Oguli said evidence had indicated that the suspects had undergone various forms of torture that caused injuries to their bodies.
"They were arrested when they were well but now have various physical challenges," Oguli said in her ruling.
The no nonsense judge blasted police and the military for abrogating their cardinal role of protecting the suspects. She said they had instead turned into tormentors by torturing and inflicting wounds on suspects all in the name of forcing them to admit the crime.
"These people were mere suspects and presumed innocent. There was no need for torturing them."
In their evidence to court, the suspects claimed that they underwent various forms of torture including systematic beating, electric shocks and submersion into water.
The suspects also told court that they were inserted with objects in their rectus on top of being blindfolded while in detention especially at Nalufenya.
Comments
comments