While speaking on CBS radio's prime news skit, Nze nga bwendaba (The way I see it) on Monday morning, Maj Gen Matayo Kyaligonza who was a senior commander in the bush war,  has asked the president to listen to the discontent among the population and opposition to lifting presidential age limit.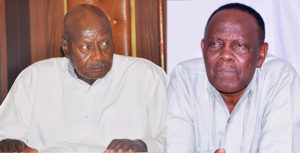 "The president should listen to what people are saying. He should stop pretending to be very busy. He should use this chance [to retire] now when we still love him, not to give a chance to everyone to say he is tired," Kyaligonza said.
However, he also noted that the timing of the bill has made it appear as a personalized  package to cater for the president.
"The bad thing is, it has come at a time when Museveni is also 75 years old; we have now over-personalised this debate," Kyaligonza said.
He said they placed limiting clauses in the Constitution because of Uganda's history with dictators who planned on clinging on as presidents for life.
Maj. Gen Matayo is also member of NRM's Central Executive Committee, the top most party decision-making organ.
Comments
comments