Former MP in the 6th parliament and senior commander in the NRA bush war has likened Raphael Magyezi's private member's bill to former president Apollo Milton Obote's 1967 pigeonhole constitution that is said to have been single-handedly drafted by then attorney general, Godfrey Lukongwa Binaisa, and forced on parliament.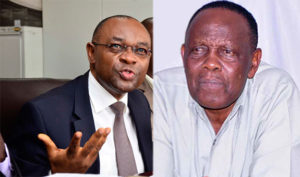 "Magyezi has no magezi [intelligence]; why do you do things just to be seen? If you bring a proposal and it's rejected, why don't you withdraw it?" Kyaligonza said.




"If I was Magyezi, I would have used common sense to see that the issue I'm bringing is unpopular; you can't sell it to your constituents."
He blamed the MPs for "forcing" the bill on people.
"Even these MPs are wrong; why should you insist on bringing a proposal that results into beatings, fighting and arresting people? Why are you forcing it on people? Why don't you withdraw it and first get consensus?" he said.



Maj Gen Matayo made the remarks while speaking on CBS radio on Monday.
Comments
comments