The electoral agency on Tuesday answered the opposition Nasa on its 'irreducible minimums', conceding to access to servers and a requirement to have all results forms to be sent concurrently with the text results.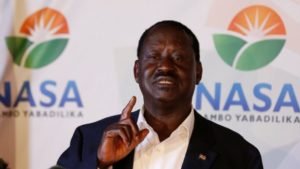 However, the Independent Electoral and Boundaries Commission (IEBC) refused to change the poll technology provider, French-based OT-Morpho, and the presidential elections ballot paper printer, Dubai-based Al-Ghurair Printing Company, citing time constraints and possibility of modifications.




The October 10 letter sent to Nasa chief executive Norman Magaya, however, might have come a little too late following Mr Raila Odinga's Tuesday dramatic withdrawal from the October 26 repeat presidential elections, and demand for fresh nominations and a new poll within 90 days.
In his withdrawal, Mr Odinga blamed what he said was IEBC's failure to address the coalition's concerns in its 12-point 'irreducible minimums.'
In the letter, the IEBC also turned down a demand by the Raila Odinga-led Nasa to fire its Chief Executive Ezra Chiloba, commissioners Abdi Guliye and Boya Molu. The landmark Supreme Court ruling that annulled the August 8 poll did not find any IEBC staff or commissioner criminally culpable for the illegalities and irregularities the apex court cited.




Comments
comments