Kenya could soon be the coolest country to demonstrate! A well-wisher has promised to supply opposition alliance NASA supporters with 20,000 loaves of bread and that number of bottles of water and sodas for their protests.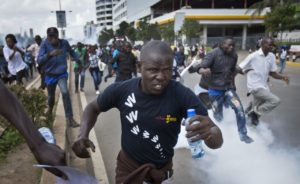 NASA's Hon. Simba Arati made the announcement at Uhuru Park in Nairobi on Tuesday as the supporters wrapped up Wednesday's activities.
Arati said the supply will start on Friday and that they will receive the items every day. The coalition will hold protests daily in its push for reforms at the IEBC ahead of the election scheduled for October 26.
Arata did not reveal the identity of the well-wisher but the news is good for members of the public who brave teargas and unpredictable weather conditions to declare Raila Odinga is their choice.
Raila has withdrawn from the race against President Uhuru Kenyatta and demanded a fresh process.
Comments
comments