Apparently when Speaker Rebecca Kadaga visited ailing Mukono Municipality MP Betty Nambooze, she got emotional and could not hold back her tears. The visitor and the patient were both shocked to see each other! According to reports from Bugolobi Medical Centre, Nambooze's spine inflammation now requires medical operation from a better medical facility and they are proposing she either goes to India, Kenya or South Africa.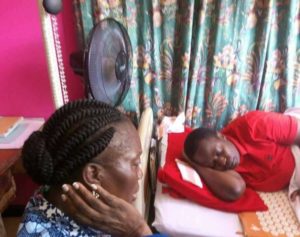 The speaker was so moved by Nambooze's condition that she promised to help process the needed documents from parliament and provide necessary support to see the Mukono legislature go for further medical attention as recommended by her doctors. She noted down the necessary requirements for follow-up.
After the visit, Nambooze had this to say;




"Rt.Hon Kadaga has come to check on me and we were both speechless…Yet we are taught that there is a minimum level of courtesy required of leaders…I therefore thank her for paying me a visit."The MPs were hurt in a scuffle at parliament on September 27th when SFC forces stormed parliament to throw them out after she [Kadaga] had ordered over 20 MPs suspended.




Comments
comments