Whoever has been asking for the whereabouts of former presidential candidate, Elton Joseph Mabirizi, here is what he has been cooking. Mabirizi has launched a campaign dubbed " Sooka Oleke Kyokola" statement that translates "first stop what you are doing" aimed at protecting article 102(b) of the Constitution.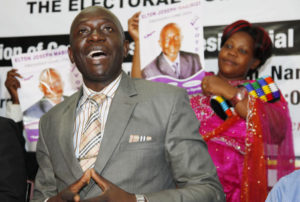 "Sooka oleke kyokola" is another form of "togikwatako" campaign launched to stop the ruling party from altering the constitution. "No turning back," Mabirizi stated at the press conference he held at Pope Paul Hotel
Mabirizi urged the UPDF to cease from engaging in partisan politics following the incident that happened at parliament a fortnight back where the Special Forces Command reportedly raided parliamentary chambers and brutally threw out opposition MPs.
Comments
comments