Group A: Uganda, Tunisia, Morocco, Zambia, Ghana
Group B: Madagascar, Zimbabwe, Senegal, Botswana, Mauritius
Uganda rugby will definitely be up for something big if they qualify for next year`s Rugby Sevens World Cup in San Francisco, USA but first they have to pass the Africa Cup test. Uganda hosts the Africa Cup starting tomorrow against eight other countries; Tunisia, Zambia, Zimbabwe, Botswana, Madagascar, Senegal, Morocco and Ghana.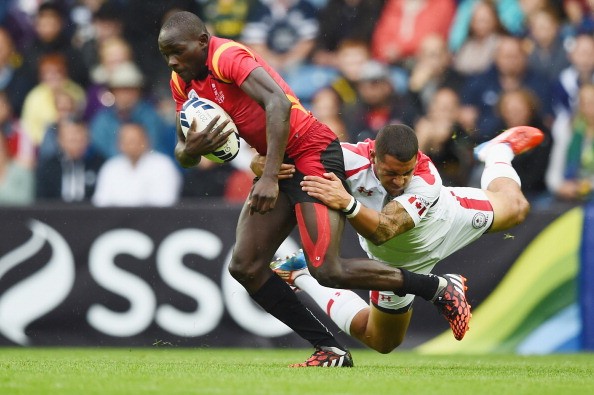 Making the final will guarantee Uganda`s flight to Uncle Sam's land to take on the best sides in the world. It would also secure a place in the 2018 Commonwealth Games in Australia. Uganda`s preparations were hampered by the disappearance of three players Brian Kikawa, Fred Odur and Ramathan Govule in Munich, Germany where they had gone to play in the inaugural Oktoberfest Sevens.



Coach Tolbert Onyango has remained positive despite the loss of those key players. "We have moved on and our only goal is to defend the Africa Cup," he said after Tuesday`s session. The trio has been replaced with Joseph Aredo, Kevin Keremundu and Byron Oketayot while the team that was in Germany also had Desire Ayera dropped and Timothy Kisiga sidelined due to a knee injury. Lawrence Sebuliba and Solomon Okia replaced Ayera and Kisiga.
Uganda won the event last year in Nairobi, making them clear favourites with Zimbabwe, Tunisia and Morroco lurking. Namibia`s absence will be a great relief to the Ugandan faithful as they hard to deal with. Selection politics have forced players to boycott call ups, forcing the former African champions to abscond from the showpiece in which they fell 19-38 to Uganda in last year`s final in Nairobi.
Captain Eric Kasiita is confident the side has improved a lot in the past one year and they have all it takes to retain the title. "There is vast improvement in the side in all departments, we are strong enough to defend the title," he told jornalists during the launch of the tournament.
The Oktoberfest Sevens were to be used as a test for Onyango`s side to assess what was wrong so that it can be fixed in time for the Africa Cup. "In Germany we wanted to gauge how far we have come, it was the best place to test ourselves since the best sides in the world were all there," said the Kenyan-born trainer. Sevens rugby in Uganda had gone to bed but the last 10 months or so have seen a major revival and World Cup qualification will cement Uganda`s status a top sevens side, following in the footsteps of neighbours Kenya.



With Guinness recently coming on board with a Shs200m annual package, hopes are high the shorter version of the game is headed the right direction.
Team
Pius Ogena, Eric Kasiita, James Odong, Adrian Kasito, Joseph Aredo, Michael Wokorach, Philip Wokorach, Lawrence Sebuliba, Kevin Kerumundu, Solomon Okia, James Ijongat, Byron Oketayot
FIXTURES
10:14:Zimbabwe vs. Mauritius
10:36: Senegal vs. Botswana
12:04: Madagascar vs. Mauritius
12:26: Zimbabwe vs. Botswana
13:54: Madagascar vs. Botswana
14:16: Zimbabwe vs. Senegal
15:44: Madagascar vs. Senegal
16:06: Botswana vs. Mauritius
17:12: Madagascar vs. Zimbabwe
17:34: Senegal vs. Mauritius
Coach: Tolbert Onyango.
Team Manager: Michael Wandera
Comments
comments