Kenyan singer David Mathenge alias Nameless and Kenyan celebrated comedian Eric Omondi are set to headline on Comedy Store at Diners Lounge. The Bukoto based weekly comedy entertainment show hosted by Alex Muhangi promised a massive return when it took a three week break and it is set to do just that.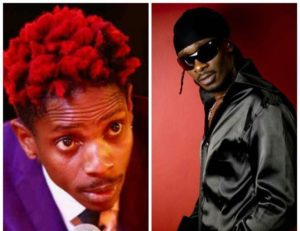 Organizers have promised that the September 28 show will be extra ordinary in many ways.
Nameless of the 'Nasinzia' fame will be making his maiden performance on the show while Omondi will be appearing for his fourth time since Comedy Store launched in May 2016. Revellers are to expect a thrilling dose of entertainment from the star studded lineup featuring Uganda's top comedians; MC Mariachi, Mad Rat and Chiko, Amooti Omubalanguzi and Kerekere.




Other acts will include Tamale Mirundi, Bush, Jajja Bruce, Snake and Zoro, Kobusheshe, Dikhanio, Godi Godi while funny man Alex Muhangi will be host. The Undercover Brothers band will also play shortly before the main comedy segment begins.
Tickets go for Ugx 20,000 while those intending to book a table for 5 will part with Ugx 300,000.
When Alex Muhangi started Comedy Store, he said it was not only going to be a platform for Ugandan musicians and comedians but East Africa as a whole. Singer Nameless will be the latest to join the list of other acts; Captain Khalid (Tanzania), Arthur Nkusi (Rwanda), Chipukeezy (Kenya) and Omondi who have previously graced the show.
With just a week to the much anticipated day, Alex Muhangi assured comedy lovers that the show will be dynamic and crowded with only the finest entertainers in the industry.
"All the big comedians will be present and it is the first those that had travelled to the U.S for the convention like MC Mariachi, Madrat and Chiko are performing again. And of course also Eric Omondi returns while Nameless is going to perform in Uganda for the first time this year," Muhangi remarked.
On why Nameless and Omondi were specifically picked to headline the show, Muhangi said; "We always want to have a different feel to every show. Our audience has so far enjoyed all the top Ugandan comedians and musicians so they deserve to be treated to a variety of entertainment."
He also added that; "A show like this doesn't happen in Uganda everyday. So, if you miss it, you can never have another one like that."