Hon. Bernard Atiku has revealed that he was provoked by fellow MP Ibrahim Abiriga who he claims has had a long history of unfriendly gesture towards including threatening him with a pistol at one time.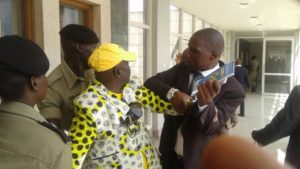 He however expressed regret of the shameful incident after emotions got the better of the two as they turned corridors of Parliament into a boxing arena.




"Allow me to apologise for whatever happened yesterday, it was dishonourable and unexpected. Abiriga from way back has been attacking me with strong words. Same thing happened yesterday in the corridors of parliament. I just had to reply Abiriga with the same behaviour he was exercising," Atiku explained.
"In Arua, he pulled an AK47 gun on me. But that aside, once the debate is open for discussion, we shall engage according to the facts at hand", he added.




Comments
comments