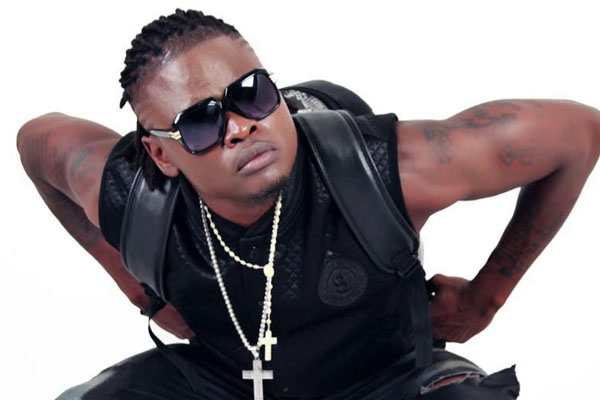 Singer Pallaso yesterday- Wednesday Septemeber 13th, went haywire and told a tweep to 'Suck his D*ck' on Twitter.
Trouble stormed from a tweet made by Urban TV presenter Denzel Mwiyeretsi who on his routine #XQuestion, featured on his 'The Shuffle show,' asked tweeps ' which Ugandan musician needed to take a rest from music!'
A one Delay Dee, believed to be a fan of Denzel's show, innocently tweeted back with two names; Desire and Pallaso!
Dee's tweet must have rubbed Pallaso the wrong way and the singer, without any sort of restraint, responded to Dee's tweet telling him/ her to 'Suck his D*ck!'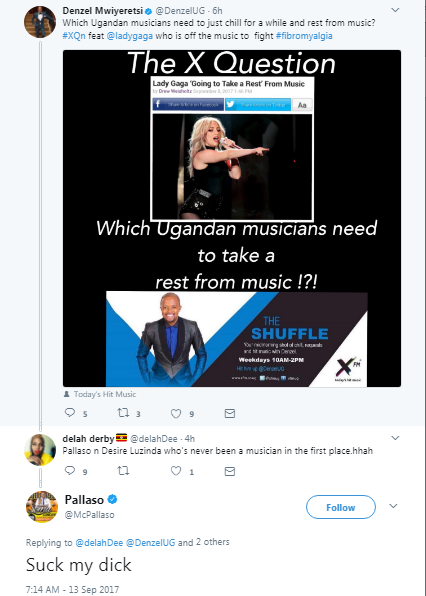 Yes, Pallaso invited Dee to suck his genitals.
It's quite unfortunate that an artiste of Pallaso's stature, who represents some serious brands could stoop so low.
Many people came out to condemn Pallaso's language, but the singer seemed unbothered!
Some people have gone as far as inviting Fr Lokodo to reign in and give Pallaso a deserving punishment!