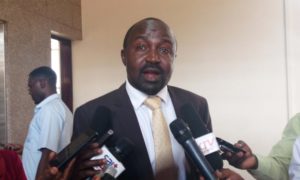 It is now public knowledge that the majority of the  ruling party MPs convened a meeting a resolved to draft a private member bill to amend article 102 of the constitution which is reportedly expected to be presented before parliament on Thursday this week.
Despite the MPs overwhelmingly support for the move during the meeting, in public they seem to be defiant of their actions.
While appearing on NBS TV, Kassanda North MP Patrick Nsamba denied knowing the intention of the meeting because it was not the usual caucus arranged by their party.
"I was invited by Hon. Simeo(one of the chief campaigners of lifting the age limit) as a friend. It wasn't a caucus meeting," Nsamba explained.




However, he further revealed that if the intended move is not welcomed by the people who voted for him, he will turn against his party.
"If being an NRM rebel means standing for the issues that affect Ugandans, then I am a rebel," he stated.




Comments
comments