Yesterday President Yoweri Kaguta Museveni was in Iganga to campaign for NRM's flag bearer Brenda Asinde in hot race to fill the vacant Iganga woman Member of Parliament seat. On arrival at the first rally in Nakigo, Asinde revealed to Museveni that her newly born boy child had earlier been named Kaguta Swahab in respect for what president Museveni has done for the country.
While campaign for his candidate, Museveni called upon the people of Iganga to vote for Asinde so that she can build on the work left behind by the late Grace Kaudha who died of pregnancy complication in July this year.




"Send me Asinde Brenda Suubi. She is our NRM candidate", Museveni told supporters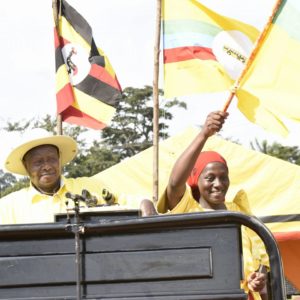 The race has highly two competitive candidates, Asinde and FDC candidate, Mariam Natale Naigaga. Over the weekend on Sunday, supporters from both parties had brutal clashes which left many injured. The district will go to polls this Thursday to decide their next Woman MP.




Comments
comments