On Sunday evening, president Museveni marked 70 years since he was baptised. However, some Ugandans seem to have suspicions over the intentions of the president commemorating the milestone in Christian faith.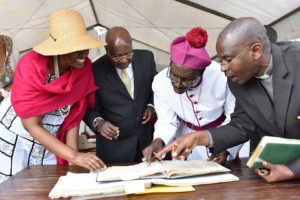 It all started when the State House shared on Facebook photos of the President and First Lady Janet crosschecking through old baptism records at St Luke Kinoni Church of Uganda in Kiruhura district.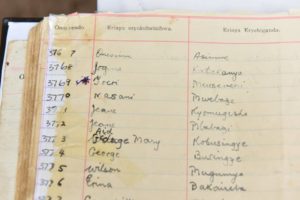 According to the records, President Museveni was baptised on August 3, 1947 by the late Rev Eric Sabiti; who was later to become the first archbishop of Uganda, Rwanda, Burundi and Boga Zaire.
I was baptised on August 3, 1947 by Rev. Eric Sabiiti, who later became Archbishop of Uganda, Rwanda, Burundi and Boga Zaire.

— Yoweri K Museveni (@KagutaMuseveni) August 6, 2017
It is on this background that some Ugandans have raised suspicion connecting the event to alleged presidential age limit amendment.
Haha you had the guts to bribe the church n alter the register..really?

— Wandera Jr ?? (@WandeCoolUG) August 6, 2017
I hope its not being taken as year of birth otherwise in research you don't use one source to make reliable conclusions.

— Kyth_The Advocate (@ahumuza_keith) August 7, 2017
However, senior press secretary had a clear answer to these suspicions.
There's a difference between birth date and baptism date. I see busy-bodies allover making unfounded claims and faking quotes @DenisNabz pic.twitter.com/AABJgag9oG

— Don Wanyama (@nyamadon) August 7, 2017
Comments
comments