A section of members of Kassanda south constituency appreciate the efforts of their Hon. Simeo Nsubuga in support of amending article 102(b) to allow the incumbent contest again come 2021. Yesterday, jovial members rewarded him with a cow in that they called a way to "energise" his strength on the fight.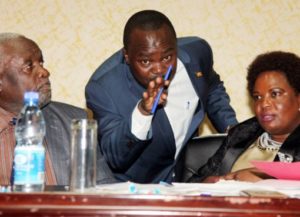 "Go and drink milk so that you get 'energy to lift the age limit' ", they chanted.




Hon. Simeo Nsubuga recently made headlines when activist William Ntege, commonly known as Kyuma Kya Yesu, loosely translated as Jesus' machine, pushed and shoved the MP during Kabaka's coronation anniversary celebrations in Mubende district last week. The activist stated that he was demonstrating the MP's outspoken support of the amendment of the constitution.
We wait to witness the effect of the milk.




Comments
comments