It is official! Come September 15th, 2017 Mr. Eazi and Tekno will be at Lugogo Cricket Oval for the much anticipated "Naija, Ghana to Kampala", the concert.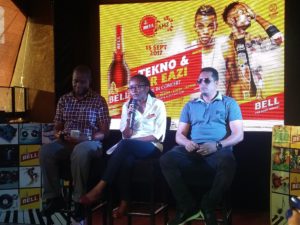 Speaking at the announcement, Uganda Breweries Limited's Head of Beers, Muzito Estella, said Bell Lager has had a long standing history with music and has through the years supported the growth of the local music and entertainment industry. The concert will be delivered by Bell Lager under the auspices of its music platform, Bell Jamz.




"Music is a platform that Bell Lager has in the past used to connect with customers. It ties in well with Bell Lager's celebratory spirit. With the introduction of a unified music platform named Bell Jamz, we will be engaging and interacting with our customers through music in a more meaningful and exciting way. This concert will be the first effort towards that," she added.
The organizers also announced that the biggest local music entertainment acts would perform alongside the two renowned artists. Bebe Cool, Ykee Benda, Cindy, Navio, are some of those on the line-up.
"Music is an essential part of every celebration. It unifies us and helps us unwind and have fun. Come and party with us at this big Bell JAMZ music celebration on September 15th. We will have all our local big music acts perform alongside Tekno & Mr. Eazi. It's one you definitely won't want to miss," said Ms. Muzito.
Ordinary tickets will be sold for UGX35k whereas VIP tickets will cost UGX100K. For those who purchase early bird tickets, ordinary tickets will go for UGX25k and VIP for UGX75k and these will be on offer until 30th August. Get your dancing shoes ready!




Comments
comments