We can as well put it that 2017 is comic outfit Madrat & Chiko's year! Just last month, the comedy duo has a sold out one-man show at Theatre Labonita; and it was their first ever!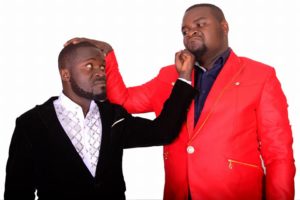 Fast forward, the duo was called up to be added on the lineup of this year's Ugandan North American Association – UNAA convention. And as luck would have it, despite their limited command of the Queen's language, the duo managed to secure US visas without any hassle. And that was it; Madrat & Chiko decided they had to celebrate the year 2017 in style.




And no, they didn't buy new rides or cause an open bar in any of the hangouts in town; the duo instead decided to celebrate by extending a helping hand to disadvantaged children in one of the schools in Mukono, where they hail from.
Last Thursday July 27, Madrat & Chiko visited and donated domestic items as well as scholastic materials to children, parents and staff of Hand in Hand school in Mukono.
Although the duo refused to disclose how much they spent on the donations, they made it clear that it was just the beginning; "We intend to do more of this; we are grateful for how far the Lord has brought us," Chiko told us.
In the meantime, we have also gathered that the duo purchased a couple of plots of land in Wakiso district! All the best Madrat & Chiko!




Comments
comments