For some reason, Buganda Kingdom royals Prince Jjunju Suuna, and his young sisters Princess Victoria Nkinzi and Princess Joan Nassolo, have been quite absent on the social scene. A few years back, the three were common faces at different hangouts around town. However, a source tipped us off that the trio have since been handed lots of kingdom responsibilities that hardly leave them time to step out and get a little crazy!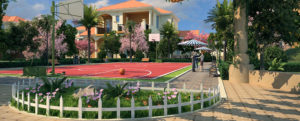 We have also been reliably informed that the Buganda king now considers the above three children as adults and he is set to empower them to kick start lives as adults.




The highly reliable source told us that Jjunju, Victoria and Joan were all recently allocated houses at the plush Miremmbe Villas situated in Kigo- off Entebbe road. Mirembe Villas-Kigo was developed by Guoji Group in partnership with Buganda Kingdom. Most of the houses in the plush estate boast four self-contained bedrooms, with prices starting at about Shs850m. Our source told us that the Buganda royals are set to move into their new residences by end of the year. We smell lavish house warming parties!




Comments
comments