The fast-growing, colour-themed family fun day, dubbed the "Colour Fun Run," is back in Kampala this September and has partnered with Smart Toto, the Kampala-based children's publishing house, to equip less fortunate regions with books and other scholastic materials.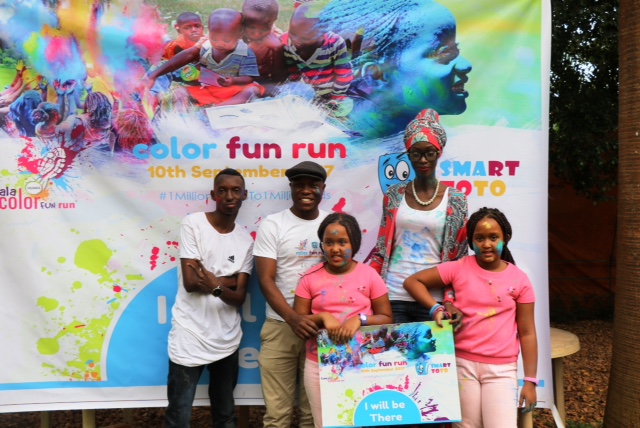 The two-year-old event is a unique run, having no winners or official times for finishers. Participants run, jog or walk a five-kilometer course, while being doused from head to toe in different colours at each kilometer.
The Colour Fun Run seeks to support Smart Toto's #1MillionBooksTo1MillionKids movement by mobilizing the public to collect scholastic materials to help others who are in need. Through Smart Toto, the movement will visit schools and organizations in different regions to encourage children to love books the same way they love toys.
According to Hasfa Mago Founder Smart Toto, "It has been truly eye-opening to visit schools that have absolutely no books at all in their libraries, and others whose stocked libraries are significantly underutilized. We at Smart Toto have therefore been going around the country showing both teachers and learners just how much fun can be found within the pages of a good book."
"We hope to change the perception of books so that parents and children can see that books are toys too. And it is because of this, that the Colour Fun Run comes in handy," adds Ms. Mago.
"The Colour Fun Run is a happy event because it brings together friends and family in a unique, healthy and fun way. We have one simple rule: wear white and prepare to be covered in color at the finish!" said Talemwa Ronnie, PRO Colour Fun Run.




Event coordinator Barbara Birungi adds, "We have traversed the country to popularize this event with the intention of changing the future of young children, and this is why our partnership with Smart Toto is very important. All Colour Fun Run participants can feel good knowing that a portion of their entrance fees are supporting the #1MillionBooksTo1MillionKids by providing books to children and schools in need."
This year's Kampala Colour Fun Run is scheduled for the 10th of September 2017 and will start and end at Kyadondo Rugby Club. Tickets are available now using the online platform app about Ugx 30,000 ordinary, 100,000 VIP and 2,000,000 for groups and corporations registering as a team.
Comments
comments