Salt media CEO and Head pastor at House of Prayer Ministries International, Aloysius Bugingo was yesterday summoned by Nabweru Magistrates Court ordering him to appear and defend himself on the infamous Easter Monday incident where it is allegedly asserted that he burnt thousands of Bibles.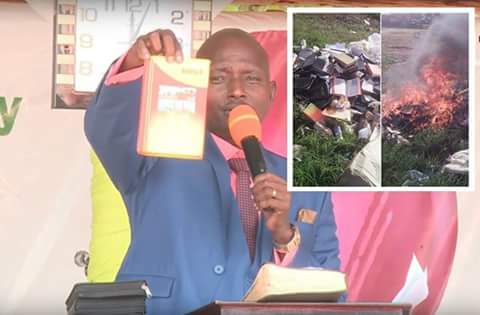 "It is criminal for him to burn Bibles because it goes against the constitution which guarantees freedom of worship and he is abusing the objects of worship which include Bibles, Qurans, rosaries and any other items people may choose to use during worship," said Wameli Anthony Yeboah, the lawyer representing Aloysius Kiiza Matovu and Evangelist Semugooma Francisco who dragged the Pastor to court
According to Wameli, his accomplaints have no hidden affairs against Bugingo but there only concern is what the future generation will use if the pastor continues burning bibles. However, Bugingo in one of his Sunday Services held at Canaan land once said; "The person who faked the bible burning scenes should have kidnapped me on gun point to show I am indeed the one who burnt the bibles. "They just 'added photos' together and made allegations. Who can burn the bible where we find the word that brings us together", he defended himself.
This year in April during the Easter season, it's said that Bugingo infront of his flock, burnt thousands of bibles which he claimed had missing verses and bore a word 'Holy Ghost' instead of 'Holy Spirit'. The burnt bibles included; King James Version (KJV) and Good News version
Comments
comments