Buganda Kingdom Prime Minister Charles Peter Mayiga has stated that singer Bobi Wine is in the wrong. While speaking to NBS Face Off, he discussed the "Kyapa Mungalo" where squatters on the Kingdom's land are requested to apply for lease from the Buganda Land Board and explained the issues that resulted to the demolition of part of Bobi Wine's beach.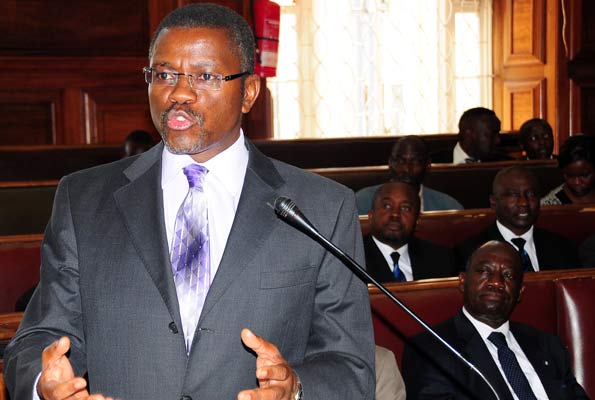 "The music star (Bobi Wine) is clearly wrong. He was leased 6.5 hectares of land. He wanted an extra two and was told it was not available but he didn't believe that it would happen. I don't know why he thinks his case is going to be solved by going to social media or inciting people to call us names. It can't be solved that way. He should restrict himself to his issue not what the Buganda land board may or may not have done with regard to other passes of land. For us we are talking about his claim of the two hectares he literally utilised as gate way to his beach knowing it is not his land", he stated.





About the demolition of part of Bobi Wine's Busabaala Beach during the Easter Season, Mayiga explained that the music star on several occasions had been warned not to illegal occupy the land.
"He was advised as far back as 2014 when he applied for the extra 2 hectares and he deposited Shs20m. But they told him it will go towards your debt over the original application of the 6.5 hectares. He has been warned several times and also written to him. He somehow believed he would win the war against Buganda Land Board because he is a Muganda. It is like believing you will sit on any pew in church because you're a catholic", Katikkiro explained.




Comments
comments