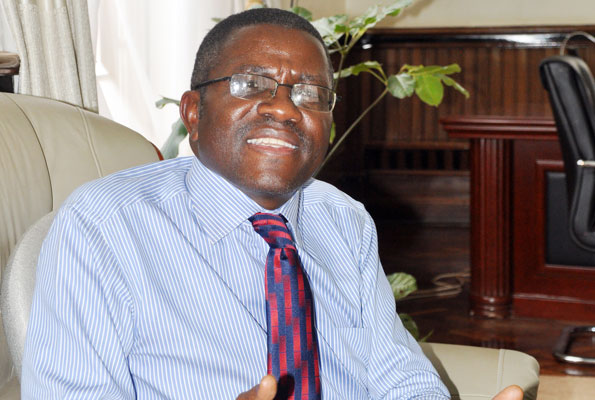 Buganda kingdom Prime Minister Charles Peter Mayiga put himself in the line of fire this morning during the #AskKatikikiro live Twitter session where he answered a range of questions from the general public to mark his four years as Katikkiro.
The suave prime minister of Buganda handled the session excellently, enumerating his achievements as Katikkiro, discussing the future of the kingdom, explaining contentious issues like the Kyapa Mungalo lease initiative and a few private ones like allegations of privately benefitting from the Etoofali fundraising initiative.
Former Presidential candidate Joseph Mabirizi who was more known for the comic way he bungled the English language than his plans for Uganda took to Twitter and accused Mayiga of using Toofali money to construct his magnificent home in Lweza.
@cpmayiga We are seeing the fruits of your kingdom fraudulent ways, and etofali money. I like your new house in Lweza. #AskKatikkiro

— Mabirizi E. Joseph (@MabiriziEJ) May 12, 2017
The Katikkiro responsed that he started construction of his house in 1996 and completed it in 2006, seven years before he became the kindgom's Katikkiro.
Natandika okuzimba e Lweza mu 1996 n'enjimara mu 2006. Oswaziza ab'ekika kyo. cpm https://t.co/7MuVnTFNp6

— Charles Peter Mayiga (@cpmayiga) May 12, 2017
Still on the Ttooffali project that was started to raise funds to renovate Kasubi Tombs, the burial grounds of previous kings, Mayiga was faulted for collecting a lot of money and not completing the projects.
He responded that there are traditional norms that are taken into account when working on the final resting houses of kings and added that he is going to take journalists on a tour of tombs this Wednesday to show the current state of the repair works.
Mayiga was also asked about whether he harboured political ambitions, replying that he still has a lot of work to do for the Kabaka and Buganda kingdom at large.
I have a lot of work to do, you even say I haven't done this and that. Why would I want to go into politics? cpm #AskKatikkiro

— Charles Peter Mayiga (@cpmayiga) May 12, 2017
The Kyapa Mungalo innitiative, where squatters on Kabaka's land have been asked to apply for leases from Buganda Land Board, has also attracted a lot of criticism with vocal public figures like Tamale Mirundi and Sheikh Muzaata saying Mengo might refuse to renew the 49-year leases after squatters have developed the land.
Mayiga said that with the current state of land grabbing, it was safer to register the land and for those who say they can't afford to register for the leases, he advised that it is more expensive to lose the land to land grabbers because they lack documentation stating their claim to it. He added that those against acquiring leases have already secured theirs.
Mayiga was also asked about the recent eviction of musician Bobi Wine from part of his One Love Beach in Busabala that sits on Kabaka's land, explaining that the singer has six acres of land and he was only evicted from a portion he had illegally occupied.
Bobi Wani ayina yiika 6 naye yiika zeyayagala okweyongeza teziriiwo. cpm https://t.co/pqtXj5RLqy

— Charles Peter Mayiga (@cpmayiga) May 12, 2017
Mayiga also off took time to chest thump about his achievements in the previous four years, including Engule, the kingdom's beer innitiative with Buganda kingdom, the recently constructed Lubiri SS annex in Buloba, Masengere Plaza and the residential Mirembe Villas.
Amayumba mu Mirembe Villas e Kigo nga Katikkiro bw'aweza emyaka ena #AskKatikkiro pic.twitter.com/Cv99VRTrX1

— Charles Peter Mayiga (@cpmayiga) May 12, 2017
Comments
comments