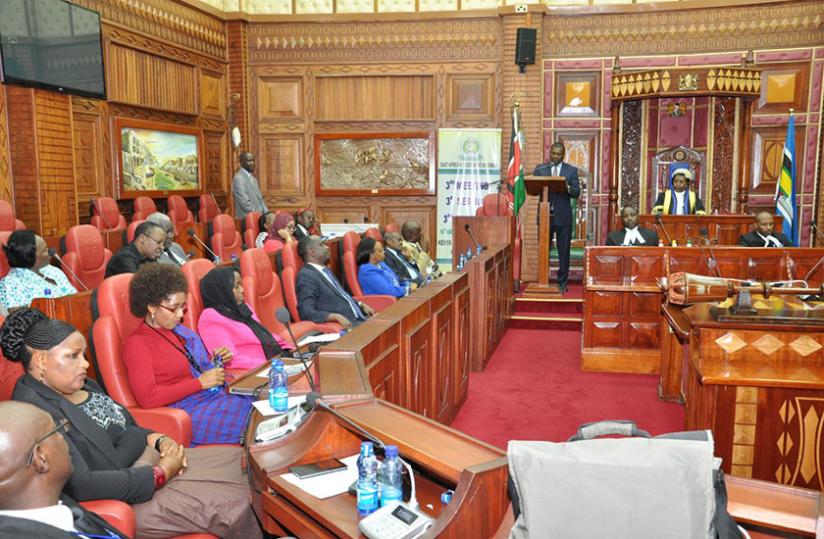 Forget all the flowery speeches that aspirants are giving about competing for the East African parliament in order to make us more brotherly with Kenyans, the real deal is the candidates who successfully negotiate the final round of voting on February 28 stand to earn up to more than Shs1.4m a day, but that's just a tip of the iceberg!




It is therefore little wonder the various political parties had a fair share of chaos and the bigger the cake, the greater the melee. NRM as the party with the most representatives in our parliament is entitled to a lion's share of the EALA cake, taking six positions while the rest- Opposition and independents, share the remaining three since numerical strength in each country's parliament dictates the representation at the regional assembly in Arusha, Tanzania. And when you learn that an EALA MP can take home as much as Shs53m a month, you start to appreciate why some resorted to throwing punches to try to secure their slots. EALA is that lucrative. And that pay is tax-free, because the East African parliament is regarded as a diplomatic institution in Tanzania, so its workers are exempted from paying income tax.
In July 2014, EALA MPs became the highest paid in the region and second only to Nigeria on the African continent following the approval of a $1,208 (Shs4.2m) increment to their basic salary. Previously they were paid $5,200 (Shs18.6m) but that figure now stands at $6,408 (Shs22.9m) per month—free of taxes and totally safe from the demands of constituents seeking school fees and wedding contributions, given that EALA MPs are not directly elected by the masses. It should not be surprising then that a significant number of politicians that fail at local elections often eye EALA's dollars with desire.
Shs1.4m allowances per day
There is more in store, however. In addition to the Shs22m that is an assured pay package, the MPs are entitled to a sitting allowance of $400 (Shs1.4m) per day, plus medical/travel insurance. Now here is the juicy part: the average sitting days for the MPs during plenary each month is 12 days, their allowances add up to $4,800 (Shs17m) but they actually rake in as much as $8,500 (Shs30.4m) in allowances, given that when not in plenary, they do committee work. That takes an EALA MP's earnings to about $14,908 (Shs53m) per month, in total. And there is the car that an MP can buy him or herself duty-free. Perhaps you have seen one of those cars with a T CD number plate cruising along our roads…
Sole candidates in DP
So that starts to explain why aspirants were ready to fight (literally) to join in this feast. Take the case of the Democratic Party (DP). Despite the "democratic" name, Uganda's oldest party had no elections but selections. DP president Norbert Mao defied his party and selected Mukasa Mbidde to further his tenure to five more years having represented for the last five years. He saw no need of contesting for the slot. Busiro North MP Medard Sseggona and several DP members claimed that Mao acted beyond his powers. He weighed in on Mbidde's controversial selection stating that such a move was against the rules. He added that while he agreed that Mbidde was a good candidate for the position, party rules dictated that a number of names be submitted for approval by the party organs before a selection is made. He emphasised that ring-fencing positions in the party was highly irregular. Mbidde, the sole candidate, was however, not ready to pay him or the party's youth wing any attention. Perhaps not many politicians will pay you much attention when there is more than $10,000 at stake. Unless, of course, you are the man doing the paying…
Fracas in FDC, blows in NRM
Not even the Forum for Democratic Change was spared. Less than a day after FDC Chief Mobiliser Ingrid Turinawe had lost to former Kaberamaido Woman MP, Florence Ibi, Ingrid was surprisingly announced as one of party's candidates for EALA. According to the party spokesperson, Hon. Semujju Nganda, FDC will send both Ibi and Ingrid since NRM has "grabbed" six positions for itself. It had initially been just Ibi that was to compete for the available Opposition slots.
But the best part of the show was provided by NRM. Their theatrics included aspirants and their followers taking matters into their hands at State House and the consequent cancellation of the polls as members pulled ropes here and there with the electoral commission.
The 300 ruling party MPs who converged in Entebbe earlier in the week to pick six candidates out of the 43 contesting for the regional would have hoped to exchange ideas and win over opponents but all they could exchange in the end were blows. They, however, managed to reassemble and select their six on Wednesday, who are; Rose Akol, Mary Mugyenyi, Dennis Namara, George Odongo, Mathias Kasamba and Paul Musamali. The NRM's chosen six are already assured of their places among Uganda's nine representatives to EALA. For each of these, their Shs53m is safe.
---
About EALA
EALA is the legislative arm of the East African Community and began doing parliamentary work in 2001. Its roles include passing laws that govern the EAC as well as oversight over the EAC's work. Members to EALA are allowed a maximum of two five-year terms with each country sending nine representatives. In addition, all ministers responsible for EAC in the member countries automatically become members as well as selected senior staff of the EAC. The current EALA term ends in June this year.