At the recently concluded Abryanz Style and Fashion Awards (ASFAS), designer Hellen Lukoma turned heads with her rather scandalous exaggeratedly long slit dress that flaunted her entire left thigh! The slit ran up to the waistline. According to eye witnesses, the sight of her flattened blade of brown thighs reminded them of dust coated roadside chicken thighs passengers usually buy when travelling upcountry for Christmas.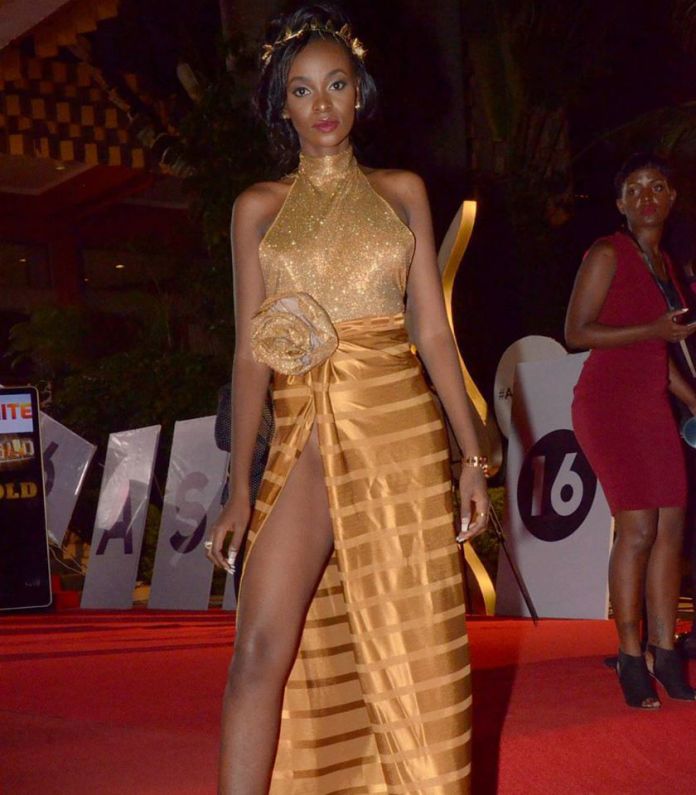 But surely Lukoma did not intend to usher them into Christmas thoughts. She stole the show. You see we are in an era where fleshy women endowed with bigger round derriere behinds get all the attention at the expense of slender ones just like fatter chicken will get more attention of the knife's sharp edge this Christmas.
The golden dress gracefully covered her chest region but split into two directions from the waistline. There were no hips accentuating the new directions but just a flat rigid frame supporting the piece of fabric like cloth hanged atop a pole. Her thigh power robbed the day.
Unlikely suspect, Katrina, sister to singer Leila Kayondo seems to have saved Hellen Lukoma from her scandalous dress. She wore a similar dress at the Sauti Sol Ciroc Frost party held at Guvnor. There were fewer changes to the Lukoma design but like they say, less is more. Katrina looked vulnerable in Lukoma's shadows but her look stands strides from the Lukoma one with more grace. Wrapped at the waist, the dress overlaps leaving a narrow gaping slit that spreads into vague impression of frills and flares accentuated by her graceful curve.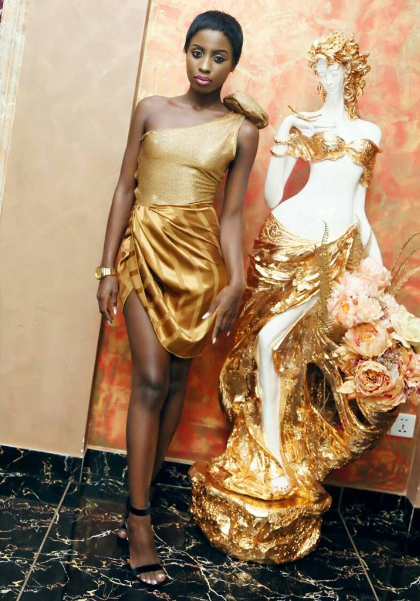 She looked more like a well packaged crispy crust fried KFC chicken and not the road side ones. In this particular photo, she posed next to white marble bikini statue strapped in a gold painted dress. Talk about aesthetic values! She saved Hellen Lukoma from the scandalous dress! Katrina rocks!