The 200 students who were selected among thousands for the MasterCard Foundation Scholarship Program at Makerere University lit up the campus main hall in their blue t-shirts with faces so radiant and excitement so real that one could almost touch it. As one of the scholars Beth Nanyama narrated excitedly "I fainted from too much joy when I heard the news that I had been accepted." "You can even see the scar on my leg," she added.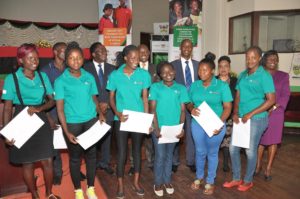 Mark Ndoni, another scholar from Rwanda studying mechanical engineering like all other beneficiaries we talked to at the official award function held last yesterday, also had a touching story of poverty, struggle and triumph. "I am the eldest in a family raised by a single mother. I have struggled all my school days to help my mother, siblings and community amidst a heavy cloud of financial restraint. This is a dream come true and I'm already planning my steps on how to give back after this heavenly opportunity that Master card has offered," he said in his French accent.



The function was presided over by vice chancellor Makerere University Prof John Dumba Ssentamu who applauded Master Card Foundation and encouraged the students, from the MCFP's third cohort to work hard. The scholarship provides recipients with full tuition, accommodation, allowances as well as supports their transition from university into workforce.
According to the MasterCard Foundation Project Coordinator Dr. Florence Nakayiwa, scholars are selected solely basing on their academic talent, financial disability, commitment to giving back to society and ability to lead.
MasterCard Foundation Scholars Program is a global foundation which was established in 2006 to primarily avail financially disabled youth in developing countries especially in the Sub-Saharan Africa with advanced education at both secondary and University level.