The third season of annual Africa Laughs show took place at the Kampala Serena Hotel on Friday night. We rate how the comedians performed.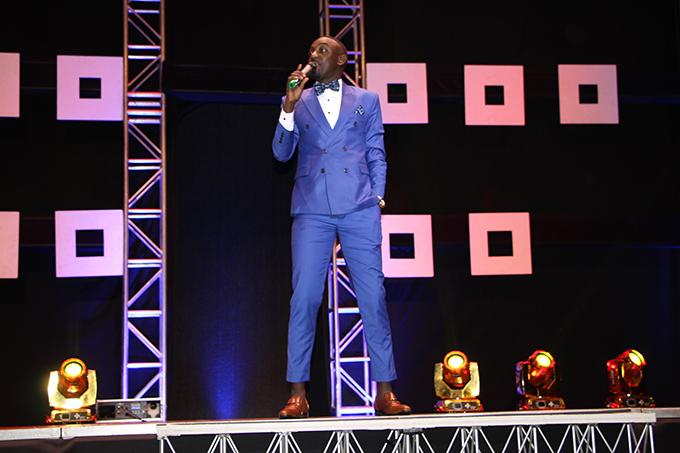 Ronnie McVex (8/10)
Ronnie McVex hosted the first segment of the Africa Laughs show. He looked dapper in a light blue double-breast suit and his jokes were just as sharp. His biggest rib cracker was when he imitated NTV Akawungezi news anchor Frank Walusimbi.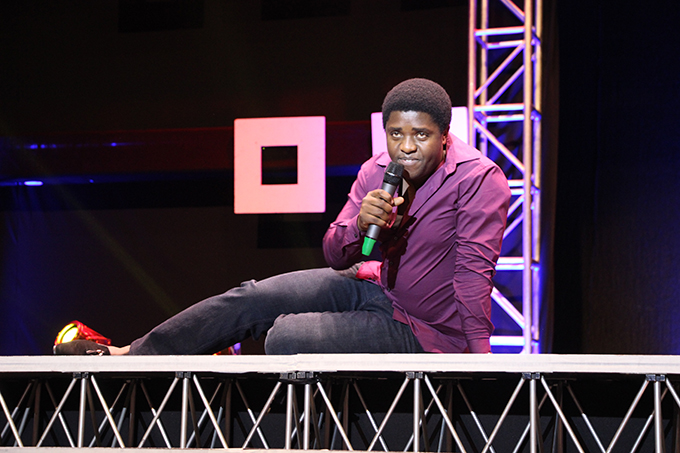 Bright Onak (6/10)
Just like his name suggests, Bright Onak is a bright fellow. Unfortunately for most bright comedians, people get the joke when they are arriving home, but Onak had a fairly good show. His biggest joke was when he demonstrated what would have happened if "lazy" Bahiima had represented Uganda at the Olympics. "Other athletes would sprint off when they are still lazily seated on the starting line."
Teacher Mpamiire (7/10)
You have to give it up to Hebert Mendo Ssegujja for bringing different comedy personas to life. His current one is Teacher Mpamiire and he got the audience involved in explaining "What went what? ……What went wrong with Uganda.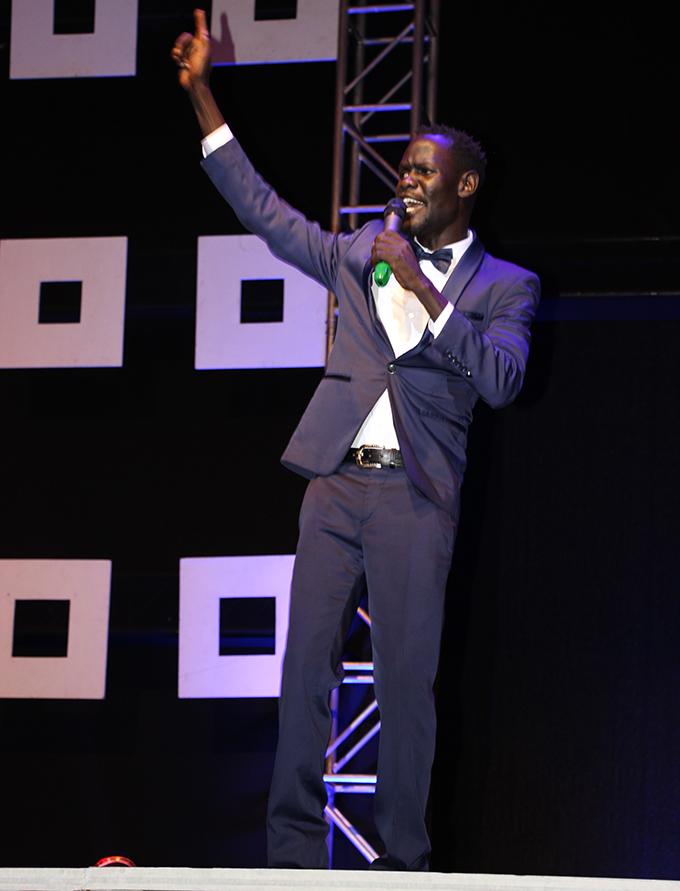 Ehmah Napoleon (6.5/10)
He came on stage well prepared and was aptly dressed in a tuxedo, complete with a bow tie. The ending of his jokes was always hilarious though sometimes he dragged a bit during the build-up. The visibly black guy joked about how he has very brown children but will not do a DNA test to break his heart. He ended it well narrating his Physical Education (PE) joke where his shorts  fell when he was in lower primary and the lady PE teacher suggested that he should have been in secondary school, after looking at his well-endowed privates.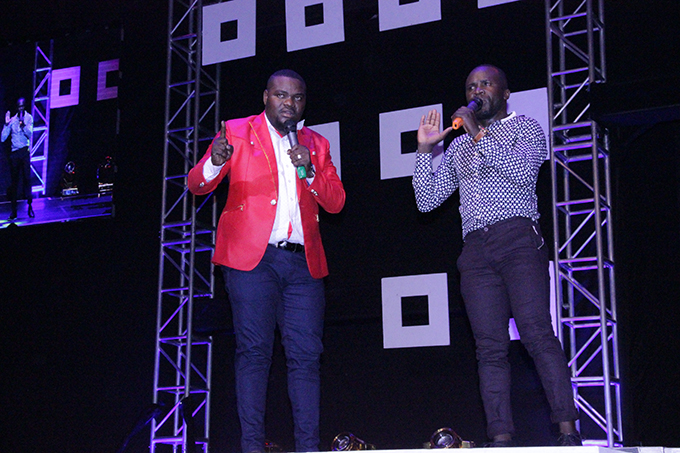 Madrat and Chiko (9/10)
These two were a clear manifestation that two heads are better than one. They cracked the audience with several practical jokes about the difference between poor people and rich people, from how the rich buy anything their children point at to how the people warn their children about exactly what they are going to buy. They also joked about how the rich don't know how to dance but can "dirten tables" with liquor while poor guys are good dancers who unfortunately disappear every time a girl asks for a drink.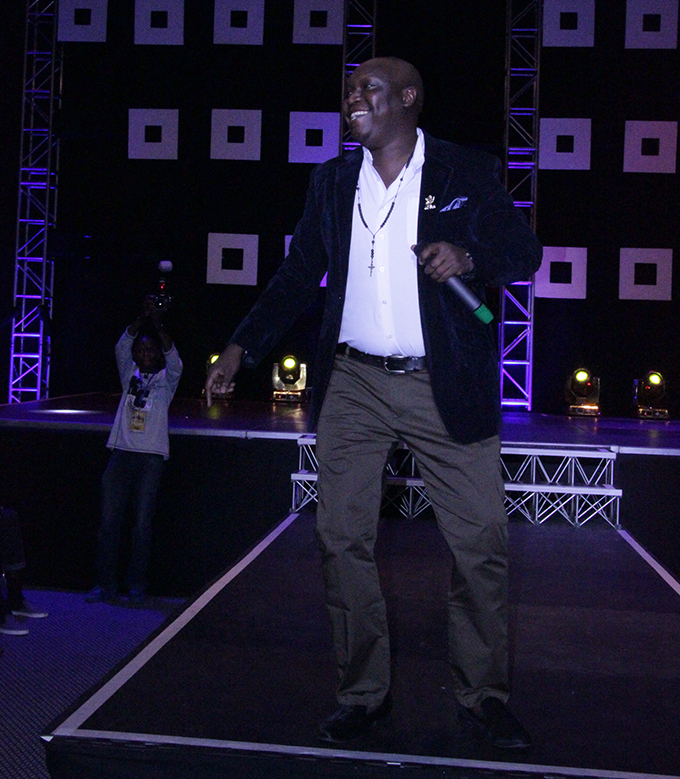 Patrick Salvado Idringi (8/10)
Salvado is one of those guys who can deliver 10/10 but we understand that doubling as the organiser of the big show must have reduced on the delivery he was set to give us. He was genuinely overwhelmed by the turn up at Serena, saying he had been worried and at one point thought it was a big mistake to remove tables and use just seats because they would have covered some of the space. He had jokes about drunk girls, how he told  his girlfriend Daphine when he had just met her that he wanted to start a family and she said he was funny … "three weeks later she said was pregnant, I told her you are funny,"  he said cracking the audience's ribs.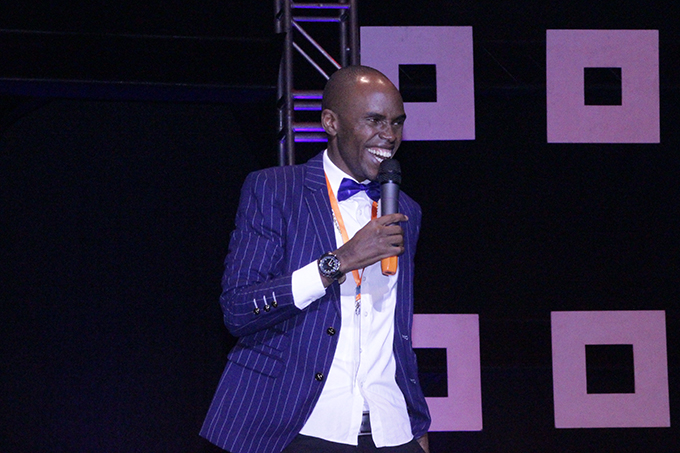 Alex Mahangi (6.5/10)
He is always well dressed, and he takes a few points for that, but we have seen Alex Muhangi funnier. The "Kabale Kid" stuck to his script of jokes about growing up in the village.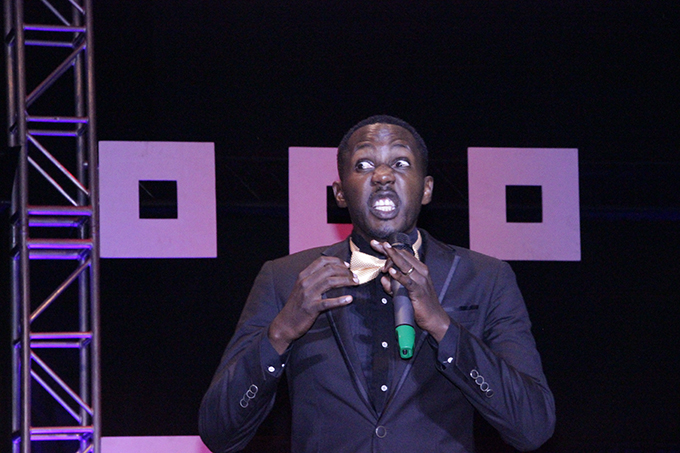 Pablo Kimuli  (6.8/10)
Pablo is a pioneer of stand-up comedy in Uganda and he still maintains the respect. In fact Salvado introduced him as mentor. It should be recalled that Pablo won the Stand-Up Uganda competition where Salvado was first runner-up. It is that same competition that saw the birth of stand-up comedy as we know it in Uganda today.  Pablo's biggest joke was about his burly neighbour who is more built than your average bouncer. He narrated how a thief entered the big guy's house and a few minutes later they heard the thief crying and asking for the guy to call the Police. "If you wanted them to come, you should have informed them that you were coming here," he said, sending the audience into laughter.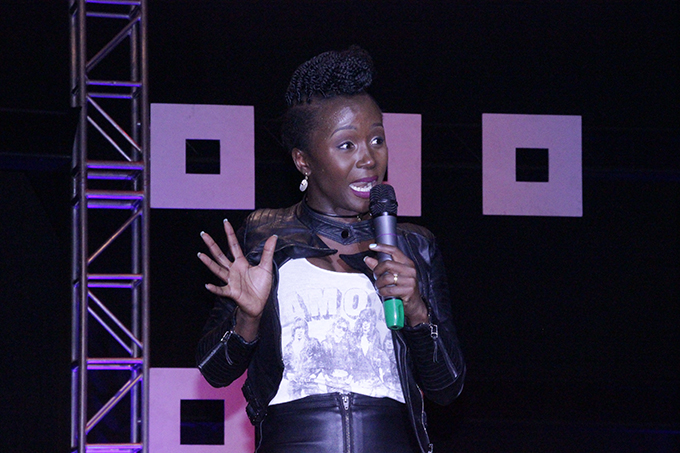 Anne Kansiime (7.2/10)
The only lady on the stage, Kansiime didn't disappoint. She came on with a dance routine, accompanied by dancers Rosemary and Viccy. Then she went on to crack jokes about herself and how she is not well endowed with ass-ets. She brought out a fake bum to expose some of the girls who wear them to enhance their looks. She also demonstrated how girls stand to appear like they have hips. She also wondered why her fiancé chose her with her close to flat behind and short frame instead of all the other girls in Uganda.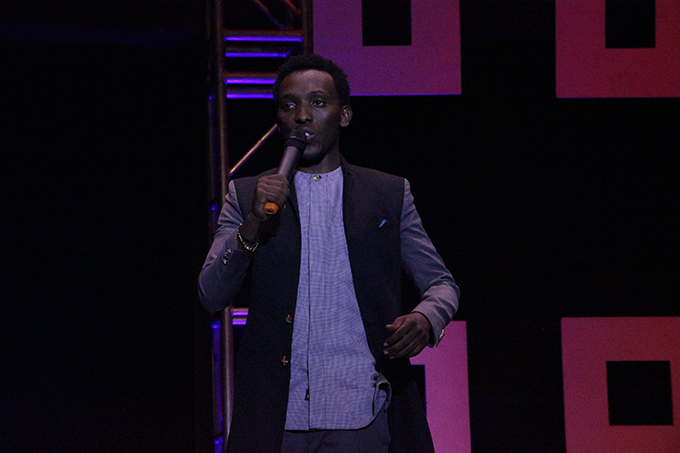 Arthur Nkusi (6.8/10)
The Rwandan national has Ugandan roots so his delivery had a bit of Luganda. His biggest joke was about DJ Pius and Jose Chameleone's Agatako song. The word Agatako means gift in Kinyarwanda but it can imply big bums in Luganda street speak.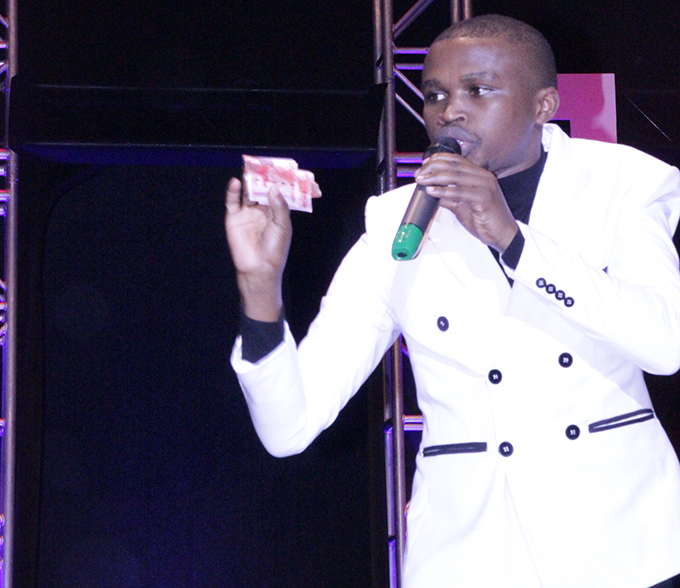 Chipzeey (7.2/10)
The Kenyan national received a rude welcome because Eric Omondi had been advertised and he was one of the stars that showgoers really looked forward to. "Kenyans are thieves, Eric Omondi took my deposit and after that he told me that he will be in Korea, but I have brought another one. He came by bus," Salvado said as he introduced Chipzeey. No one clapped so Chipzeey returned backstage and asked Salvado to introduce him again so that people can clap.  He saw a Mzungu photographer in the audience and asked him for money, saying that he can do magic tricks. "I can count to three and make this money disappear," he said. On the count of three, he put the money in his pocket and he said it had disappeared.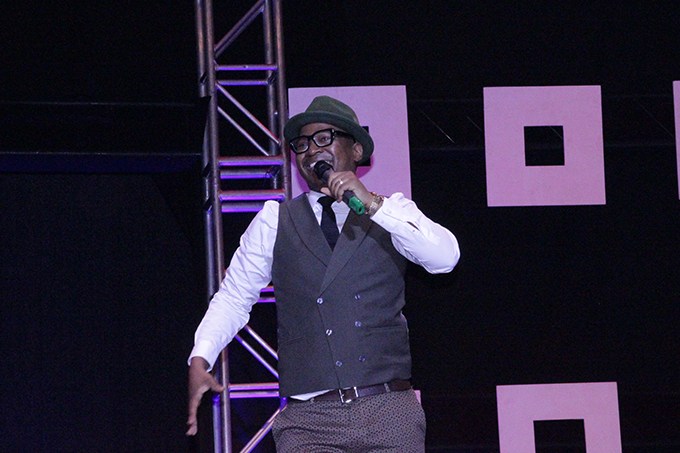 Ndumiso Lindi (6.5/10)
The South African is not one showgoers would have missed if he hadn't come. His jokes were very intellectual and you had to be very attentive to get them. He chose to describe situations using different songs, which was funny since people could relate. He also didn't spare his fellow South African Zulu men who speak with deep baritones, but break into high pitched stereo voices when singing.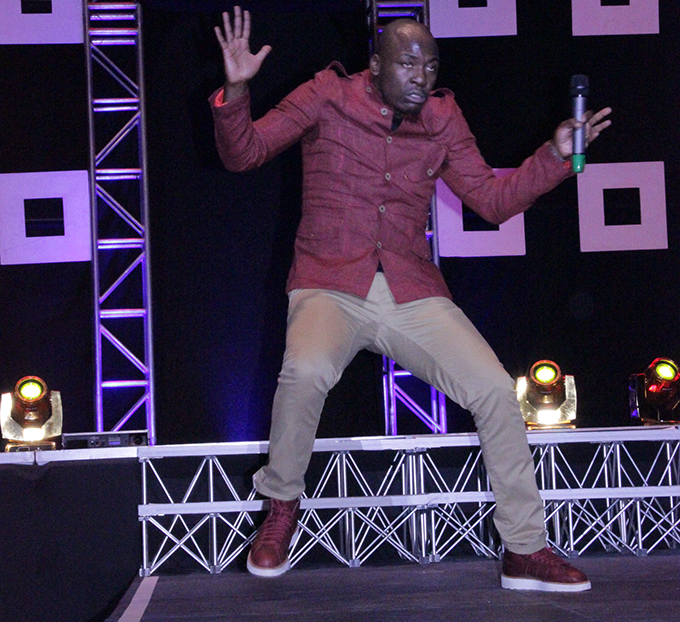 Eddie Khadi (7.8/10)
This is the second time the London based Congolese performs in Uganda and he put up a good show. One of his best jokes was how he met a killer on a London train who was threatening to murder everyone. He decided to call his father in his mother tongue to say his final words. The killer heard him and asked him to say what he was saying again. The killer told him he had never heard anyone with "sicker flow".  It turned out the killer was a rapper whose only interest was in killing beats.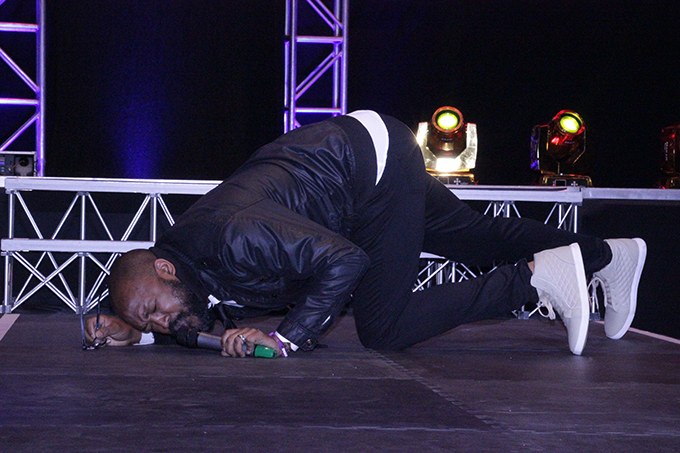 Carl Joshua Ncube (8.2/10)
The Zimbabwean national was on top of his game. He has intelligent jokes, but the jokes that the average person immediately understands. Unlike some "intelligent" comedians where you need someone to break down the jokes, Ncube's were easily understood. The butt of his jokes was Zimbabwean president Robert Mugabe and how the one hour bulletins in their country are filled with news about him. "You don't know what it's like to have a President rule a country for more than 30 years … oops I almost forgot," he said taking a jibe at President Museveni's long stay in power.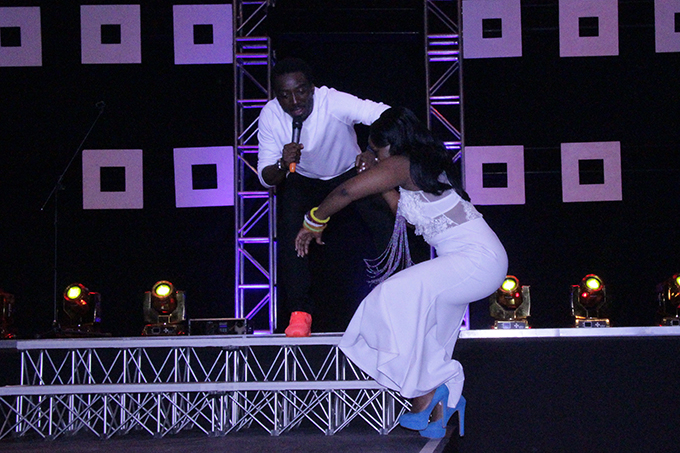 Bovi (9/10)
The Nigerian was the perfect man to crown the show. By the time he came on stage, it was past 1am and some fatigued people were already leaving. "I was worried that I would perform for empty chairs because people are leaving, so I asked Salvado for weed so that I can see people in the chairs," he said immediately he got on stage and this improvisation worked, getting the people who were planning to leave glued on their seats. He joked of how Ugandan guys stole his phone when he was raising his hands in the air in the club dancing to
Hip Hop Hurray.
 He joked about situations every guy can relate to. "You take a girl abroad and you are sure …. But when you are booking the room she blubbers 'where is my room?'.