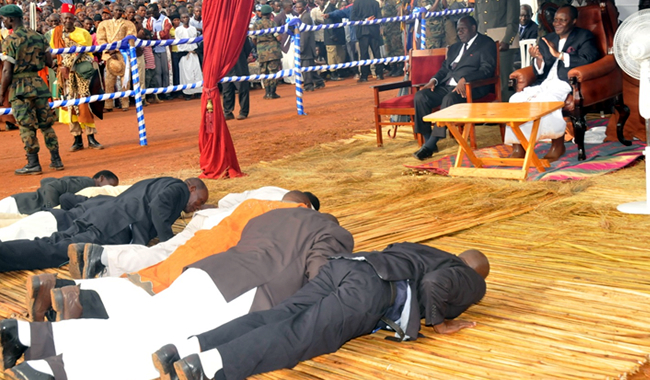 In this 21st century, many cultural norms are being phased out in favour of the Western way of life. But the opening of the 24
th
Buganda Lukiiko at Bulange Mengo this morning showed that culture is still very much alive as kingdom officials stuck to norms that are supposed to be observed before the  Kabaka.  Many dot.com era young people would find these practices peculiar. Distinguished gentlemen were shown live on TV prostrating (lying on the floor) before the Kabaka while thanking him for ministerial appointments.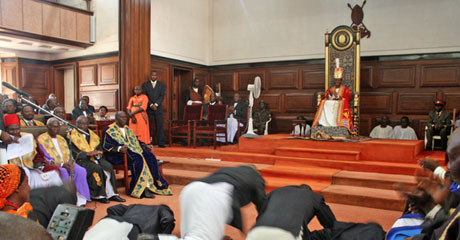 Prostrating is done at formal events and it dates back to the 12
th
century, but on other occasions, men are expected to kneel while greeting the Kabaka. These men referred to the Kabaka as
Bbaffe
(our husband), which youth of today will find peculiar.
Baffe
is one of the titles given to the Kabaka, implying that he is a husband to all his subjects, male or female. Another interesting norm that was observed at the Lukiiko is that in Buganda, no one is supposed to show the Kabaka their back. So as the Lukiiko officials took to their seats after prostrating before the Kabaka, they walked backwards in reverse motion.
But if you think these practices are queer, then you should have lived in the 18
th
and 19
th
Century when the norms were worse. It is said that back then, the Kabaka's spear wasn't supposed to be rested on the ground. So after his hunting escapades, one of his pages had to volunteer his foot, which the Kabaka would pierce to rest his spear. That must have been painful, but people would do anything for the Kabaka. It is also said that the Kabaka wouldn't spit on the ground. One of his pages had to open their mouth for the Kabaka whenever he felt like spitting. Some of the practices are now archaic but the Kabaka is still loved among Baganda and even other Ugandans who are not Baganda.