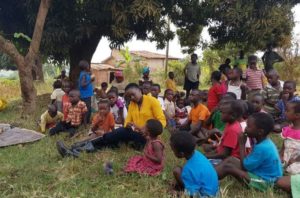 A few weeks back singer Iryn Namubiru posted photos of her spending time with underprivileged children. We later learnt that the photos were taken during one of Iryn's engagements with women, orphans and vulnerable children in her hometown of Mityana.




We also learnt that Iryn has been supporting the underprivileged through her charity initiative 'Gather For Children' that she started 10 years ago, providing items for personal use and paying school fees for children.
Well, 10 years later, Iryn feels her initiative should do something bigger. And according to sources within her camp, the singer is planning to hold a concert to fundraise for her 'Gather For Children' charity initiative. The source told us that Iryn plans to hold the concert in December at the Kampala Serena Hotel. It is said Iryn has plans to construct a school out of the proceeds from the event.