Freshers are itching to join campus, but they might have to wait a little longer. Makerere, MUBS, Kyambogo and two other public universities have extended reporting dates for the academic year 2016/2017 until further notice, following the persistent non-teaching staff strike.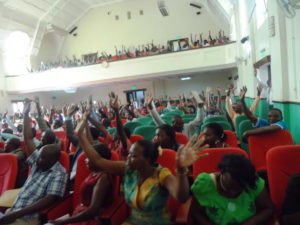 First year students were supposed to report this Saturday August 13, but the governing bodies of the universities including Busitema and Gulu have decided to reschedule the reporting days as they try to find resolutions to the striking staff.




This implies that first year students who usually report to university a week earlier for orientation purposes will most likely report on the same date with continuing students.
The strike, now in its second week is about July salary arrears and a more contentious issue of increasing salaries.
Academic staff salaries were recently increased and the non-teaching staff feels they are being discriminated against.
On Monday, the non-teaching staff held a meeting with First Lady and Education Minister Janet Museveni asking them to call off the strike as their issues are being looked into, but they rejected her pleas.
Before Ms. Museveni had taken over the education ministry, Finance minister Matia Kasaija had agreed to increase salaries of non-teaching staff as per a consensus note, starting with the second budget quarter which commences in October, but a ministry technocrat noted salary increment had not been included in the 2016/2017 budget.
"We must keep our tools down. What we want is the consensus note implemented. Failure to do that, we shall keep our tools down," Mr Jackson Betihamah, the Public Universities' Non-Teaching Staff Executive Forum (PUNTSEF) chairman, said after the meeting.