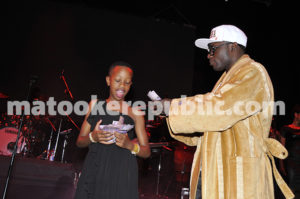 City socialite  Katsha stole a big chunk of the limelight at the Life of Bebe Cool concert last Friday at the Serena Hotel. As Bebe's daughter Beata, one of the highlights of the show, was performing, Katsha showed up on stage dressed in what looked like a bathrobe and for a moment took the audience's attention from the little girl's awesome performance, inviting ridicule from social media.




But appearing on NTV The Beat on Monday evening, Katsha defended his dress style, saying that all those that understand fashion appreciated his golden bathrobe and all of Kampala's leading fashionistas had endorsed his outrageous dress. Asked by show host to name some of those fashionistas, Katsha named a Rene who he said is based in Ntinda.
The South African-based Katsha also explained that part of the reason for his choice of dress was the fact that he has a very good AC in his car that makes it a must for him to dress in robes.