Following the recent bail release of Rtd. Col. Dr. Kiiza Besigye from prison, police is active again. This time with pepper spray, canes and batoons!



For the second day in a row, masked goons have been beating up onlookers who gather to see Dr. Kiiza Besigye dispersing them without mercy or favor. Passersby, journalists, children and traders did not survive the whipping.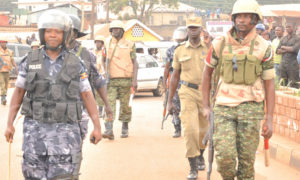 While addressing the media yesterday at FDC party headquarters in Najjanankumbi, Dr. Kiiza Besigye stressed that the ongoing police brutality is unacceptable to both the said offenders and the offended. "Those are criminals masquerading under the Uganda Police Force. The real criminals in police unfortunately make policy and execute it, but the greatest majority of our policemen are very unhappy about what's going on," he said.
Dr.Kiiza went ahead to add that "The institution of the police must be a different institution. Of course, those criminal elements in the police unfortunately are the ones who make policy for the police today and execute it but the greatest majority of our policemen are very unhappy with what is going on…"
The Uganda Law Society (ULS) has also taken action to investigate the circumstances surrounding the status quo. "Documenting the evidence and we will issue a statement," said ULS president Francis Gimara
Police speaks out
Yesterday, Deputy Police spokesperson Polly Namaye said that the Force's Professional Standards Unit (PSFU) had opened up a file on the alleged brutality by their officers. She added that the Force didn't know about the incidents and only got to learn about them from the media.
She urged the assaulted to report at Ntinda-based body claiming that the lack of complainants had previously halted the force's resolve to bring the suspects to book. "PSFU has already contacted media houses to give us the original footages of the incident," she explained.