It's not a joke. Team No Sleep CEO Jeff Kiwa is seriously asking for Shs1 billion from Radio and Weasel as compensation for defaming his name by calling him a witch. He wants each of the two musicians to pay him Shs500 million.




And Jeff has given the Goodlyfe duo up to Tuesday 20th June to meet this demand, or else he takes the issue to court.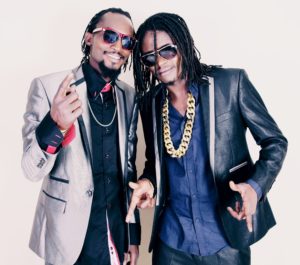 Jeff Kiwa is particularly suing the singers (his former business partners)over a Facebook video clip they posted last week, in which Radio and Weasel referred to him as a witch. This all happened while while Jeff was entangled in a human-sacrifice scandal, which he finally overcame as Police found him to have nothing to do with the man who had been caught with a human head claiming he was taking it to Jeff
As you can see in the image below, we were able to get our hands on Jeff Kiwa's letter to Radio and Weasel, written and delivered through his lawyers Muwema & Co advocates. The letter also shows that Jeff not only wants Radio and Weasel to pay him a billion, but to as well take down the video clip, publish an apology still on their Facebook page, and finally publish an apology in one of the main stream print media houses –all by Monday next week.