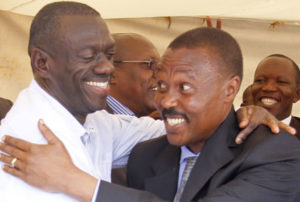 Former FDC president Dr. Kizza Besigye has sent a message to the current party president Gen. Mugisha Muntu indicating that he feels betrayed by the general's appointment of a Leader of Opposition in parliament, yet as a party they had agreed not to elect any one in that position because it would legitimize President Museveni and the NRM's win in the February general election.




Dr. Besigye sent his message through the FDC National Mobilizer Ingrid Turinawe on Thursday, when she visited the incarcerated party stalwart at Luzira prison.
However, the news of Dr. Besigye's disappointment with his successor for FDC presidency was broken today by Kampala City Council Authority Ssegirinya, who alongside other politicians like MP Allan Ssewanyana was among Besigye's visitors on Thursday.
"Dr. Besigye said that when Gen. Muntu visited him in Luzira, the later reassured him that he would follow the agreed-on position of not electing aLeader of Opposition because appointing one would be legitimizing Museveni's win," Ssegirinya said.
"Dr. Besigye also said he was disappointed that Gen. Muntu had named a Leader of Opposition without first putting conditions for government to better work with the opposition, such as demanding the unconditional release of himself (Besigye) and other incarcerated opposition leaders."
It should be remembered that last week Gen. Muntu named Kasese Woman MP Winnie Kizza as Leader of Opposition, sparking off complaints among several FDC leaders and loyalists.