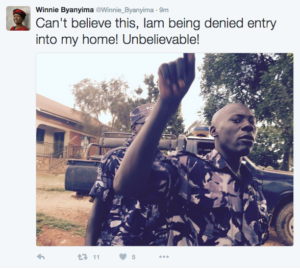 The wife of FDC stalwart Kizza Besigye, Engineer Winnie Byangima, reports that she has been denied access to her family home in Nangabo Zone, Kasangati, Wakiso District.




Writing on her Twitter account a little over an hour ago, Engineer Byangima who (freshly arrived from the UK) expressed incredulity at the fact that uniformed Policemen manning the drive to her home stopped her from accessing it, demanding that she first open her suit to be checked. She posted a picture of some of the security operatives behind the act.
"Here is President Museveni's police denying me entry into my own home! Where is this country headed?" Engineer Byangima tweeted. "Here is the arrogant security man telling me I won't enter my home unless I open my bags to be checked!"
It might be remembered that accessing Besigye"s home has been difficult for almost anyone since the February 18 presidential election, with security operatives even barring journalists  from covering the incidents going on at the home situated in Nangabo Zone. And especially this week, security presence at Besigye's home has been beefed up to prevent the FDC stalwart from joining his colleagues in protests as next week's presidential and parliamentary swearing-in draws close.




Comments
comments