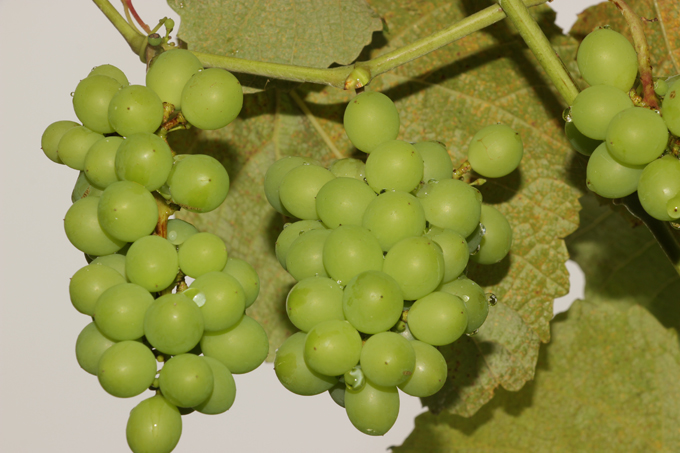 Ugandans are known to join the bandwagon. Start something and before you know it, everyone is doing the same thing. Those who start things are the trailblazers who the difference and in most cases reap the most fruits. And speaking of fruits, tycoon Sudhir Ruparelia has just pioneered grape growing in Uganda. After posting photos of the first fruits on his Facebook timeline, Matooke Republic reached out to him about the project. "We only planted one acre as a pilot project," he said. "We plan to expand commercially after the trial," he added, before connecting us to the farm manager of Rosebud, Mr Ravi Kumar who took us to the farm in Entebbe.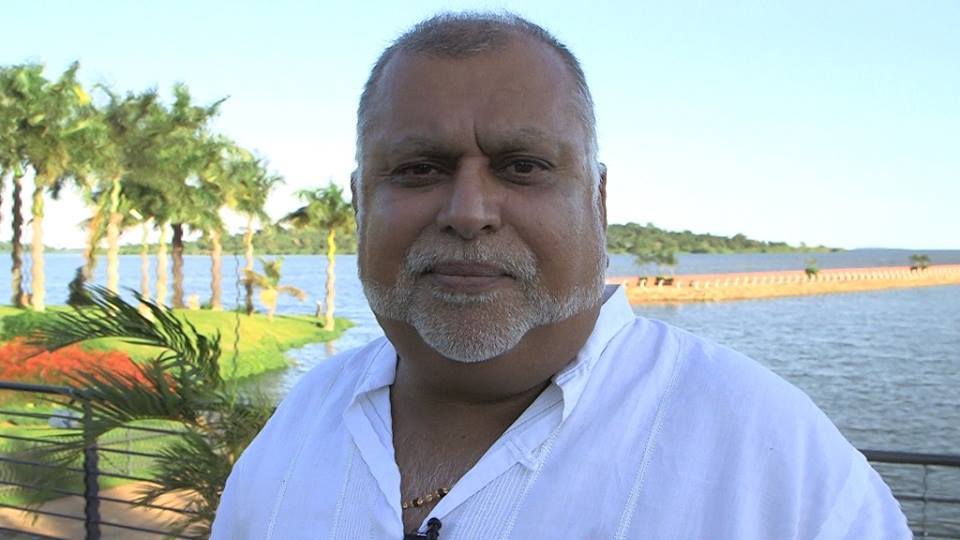 We were intrigued by how grapes can grow in Uganda, a climate they are not known to thrive. "Grapes grow well between 500 and 700 metres above sea level. We are 1150 metres above sea level. It is not ideal, but it is not bad all the same. Our yield is affected because we harvest less than in other places like France and South Africa where grapes thrive," he said. "But the advantage is that we can harvest three times a year unlike other places where the grapes go into hibernation in winter," he said. Having been to a wine farm in Cape Town, South Africa, I realised a peculiar difference between this farm and the South African farms. While the SA grapes thrive as shrubs, the wine farm in Entebbe had the plants supported by poles and creeping onto wire meshing, just like passion fruits are usually grown.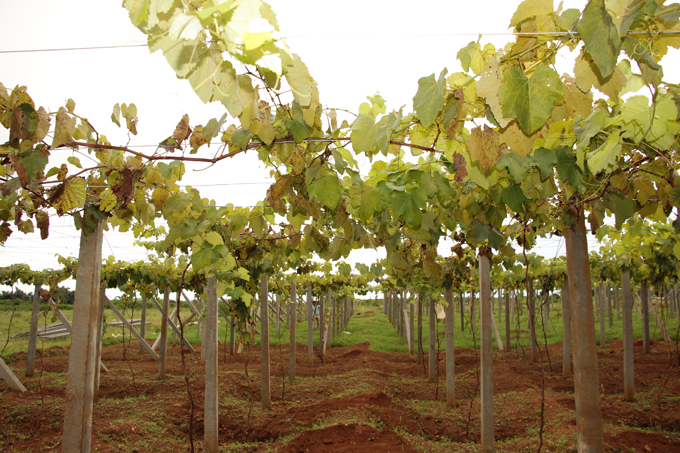 "There are several varieties of grapes and ours are the creeping variety, so they have to be supported. The creeping variety is ideal for this venture because they are easy to pick and not easily attacked by pests as the ground varieties. Even for this one acre trial, the investment is enormous, as unlike the creeping gardens where wooden poles are used, here concrete poles were used and Ravi explains that it is a long-term investment because the grapes will still give fruit for up to 25 to 30 years.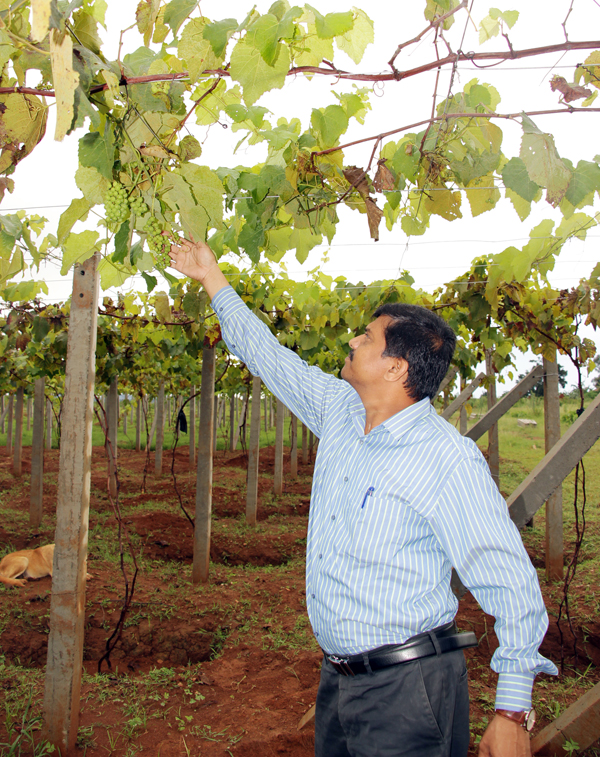 Learning curve
Ravi says that after the trial, they will go into large scale commercial farming. At the moment it is still a learning process and Ravi and his workforce at the farm examine everything carefully. He looks at a browning leaf and asks if they sprayed with pesticides the previous evening and the farm help answers in the affirmative. "It is the rain," he explains the few browning leaves. "Constant rain and constant sunshine is good for the grapes, the only problem is the abrupt rains that lead to this," he says before instructing them to apply fertilisers. He examines the plants with tenderness like they were his own children. And you cannot miss the look of satisfaction on his face when he touches the grape fruits. "These ones will be ready for harvest in one and a half months," he says of what will be their first harvest. "We are eagerly awaiting because we want to know if they taste as good as we expect them to," he says.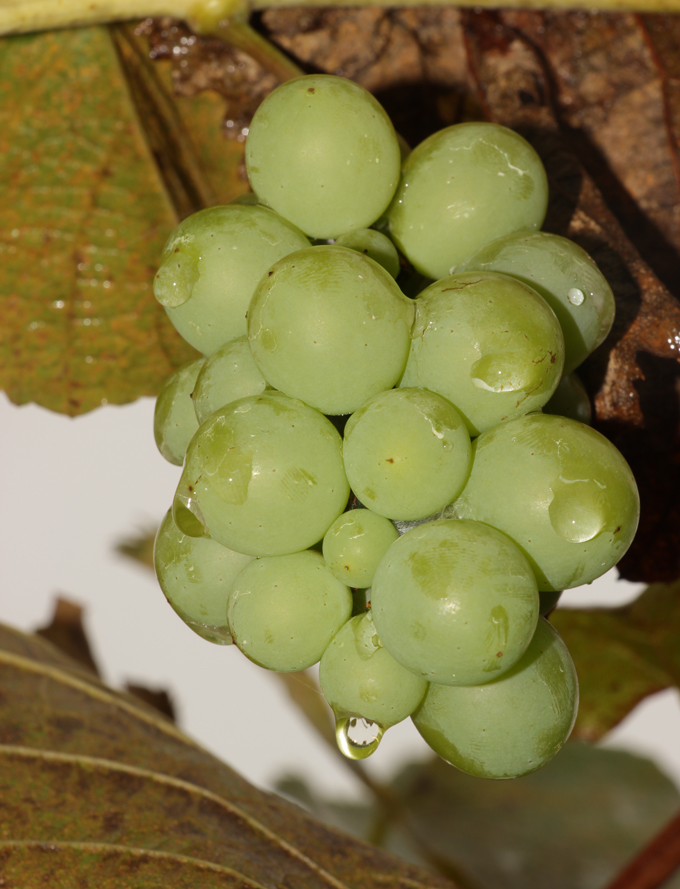 Grape growing will be a fruitful venture for the Ruparelia Group because as farm manager Ravi explains, 15 tonnes of fruit can be harvested from an acre each year. "There are three harvest seasons and you can pick five tonnes for every harvest," he says. "The immediate plan is to grow grapes for table purpose (eating)," he says. At the moment grapes are imported from Egypt and South Africa. Half a kilo of grapes costs about Shs15,000. "We could sell half a kilo at about Shs10,000 because we will have cut out the importation costs." At Shs10,000 for half a kilo, an acre of grapes can fetch up to Shs300m a year if it yields the expected 15 tonnes.
Future plans
In the first three years, the plan is to grow fruits for consumption, but later, they plan to expand and also grow fruits for wine making. "There is a big demand. Everybody likes wine. When we make our own wine, which is up to international quality, the cost of wine will come down," he says. Probably we now know why Sudhir recently included a big wine cellar at his Kololo mansion.