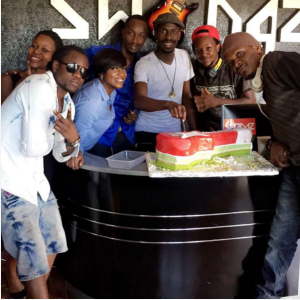 Renowned guitarist Myko Ouma will sleep a very happy man tonight, after his workmates at Swangz Avenue showered him with a surprise belated birthday celebration this afternoon.
The guitarist's birthday was yesterday, Monday 4th April. But as he wasn't present all day his group-mates chose to surprise him with a birthday cake at their Muyenga-based Swangz Avenue studios
this afternoon
.
Ii was a rather small inner-circle-only affair in which the singer was congratulated on adding another year, but drama ensued as it turned out that no one at the event could tell how many years exactly Ouma was making and the man of the day wasn't willing to divulge. Even as he was pressed hard Ouma refused to tell how many years exactly Ouma has made.
 At Matooke Republic we are wondering whether the guitarist couldn't say just because he is as old as a dinosaur, nonetheless we also say 'Happy birthday Myko!'
Comments
comments