There was a lot of excitement at the 2016 presidential candidates nomination ceremony at Nelson Mandela National Stadium in Namboole. President Yoweri Museveni and Go Forward's Amama Mbabazi were nominated this morning, but there was also excitement on the side-lines, away from the main ceremony.
NTV reporter Sheila Nduhukire turned up in what was presumably a yellow and black dress at NRM's function at Kololo Airstrip yesterday. Yellow is the official NRM party colour and this prompted NRM to post the photo on their Twitter page.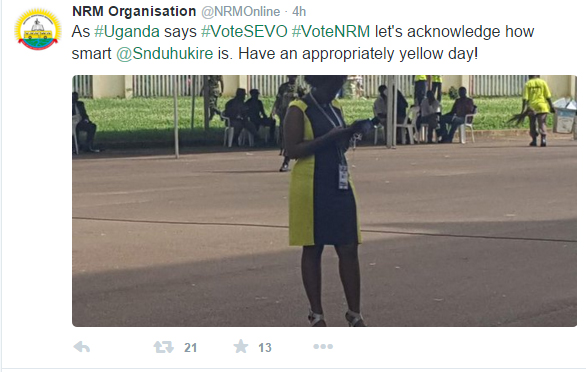 Lawyer Edwin Karugire who is also husband to President Museveni's daughter Natasha could not resist to comment.

Nduhukire replied that she was actually wearing lime green not yellow. Maybe everyone else is colour blind.

Journalists are expected to be non-partisan in their coverage.