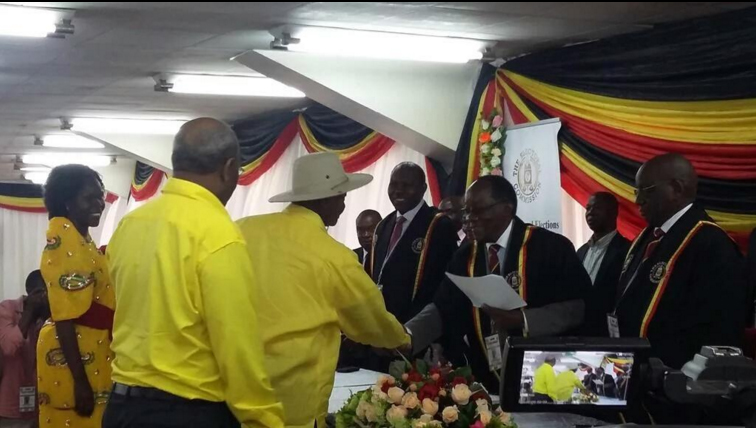 "I engineer Badru Kiggundu declare Museveni Yoweri Kaguta a candidate for the 2016 General Election," said the Independent Electoral Commission Chairman, as President Museveni was declared the first presidential candidate at the Nelson Mandela Stadium in Namboole this Tuesday morning.
Museveni was handed his candidature instruments at exactly 10.20am.
Museveni's entourage included Prime Minister Ruhakana Rugunda, First Lady Janet Museveni, NRM Vice Chairman Hajji Moses Kigongo, Secretary General Justine Kasule Lumumba and Hon. Evelyn Anite among others.
Always Be Torelant (ABETO) NGO handed over a peace flag to Museveni as a symbol for him to commit to peaceful elections.

Prime Minister Ruhakana Rugunda who proposed Museveni as a presidential candidate, First Lady Janet Museveni and Evelyn Anite who seconded the president.
---
"My message to Ugandans is that Uganda went through a liberation struggle, recovery process, to the stage of building a foundation and transformation, it is now time for take-off," Museveni who has led the country for close to 30 years told the press shortly after nomination."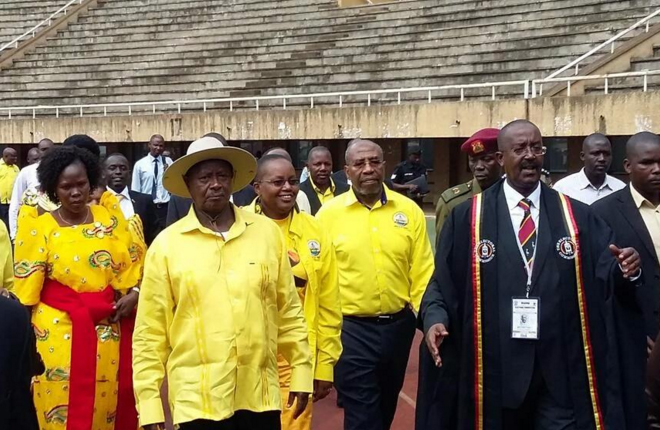 He is expected to address supporters at the Kololo Ceremonial Grounds later today and his campaigns will kick off on November 9 in Luwero.