Former Vice President Prof. Gilbert Bukenya who recently made a u-turn from the Democratic Alliance and returned to the ruling party National Resistance Movement has said former Prime Minister Amama Mbabazi whom one he served with in cabinet  has no support and is not a threat to NRM's quest to retain power.
Mbabazi was nominated as a Presidential candidate this morning. Bukenya was briefly with Mbabazi in The Democratic Alliance (TDA), an opposition coalition before he crossed back to NRM. TDA was formed at Bukenya's Katomi Kingdorm Resort in June with the aim of fronting a single opposition candidate against President Museveni.
Talks to field a single candidate between Amama and FDC presidential flag bearer Kizza Besigye stalled, after Bukenya, Democratic Party's Norbert Mao and Uganda Peoples Congress' Olara Otunnu has given up their ambitions to the TDA candidate.
Both Amama and Besigye are now contesting separately for the presidency.
"Maybe Besigye has some support but Amama doesn't have any," Bukenya told journalists earlier this morning at Namboole where he had gone as part of President Yoweri Museveni's campaign entourage.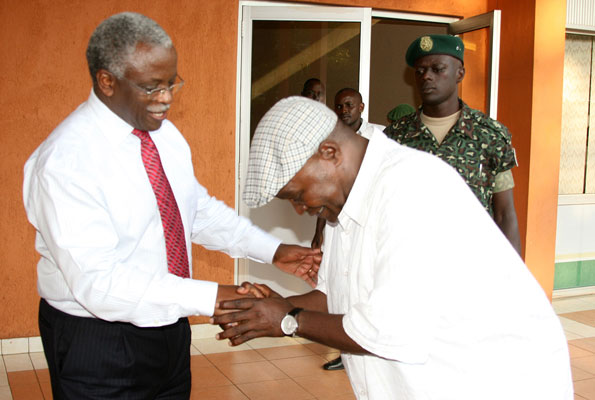 Mbabazi and Bukenya when they still worked together in cabinet.
---
"What track record does he have. What can he show that he did during his time in cabinet," Bukenya queried.
It should be remembered that Bukenya was hounded out of the cabinet in 2011 and he claimed mafias in cabinet (alluding to Amama) were against him.
"Don't waste my time to ask me about someone who has nowhere to start," Bukenya said when journalists prodded, saying that Amama had some support.
Bukenya who has a track record as a good mobiliser was recently welcomed back into the NRM fold by president Museveni and he received a lot of social media backlash, with people calling him a political sell-out. However, he is expected to play a pivotal role in campaigning for Museveni, especially in the central region.