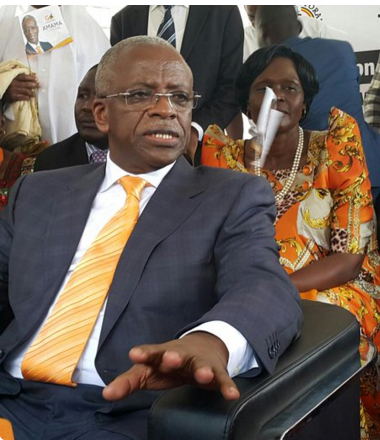 Former Prime Minister Amama Mbabazi was declared a Presidential candidate by the Independent Electoral Commission at 11.05am this Tuesday morning.
Amama who was supposed to kick-start the nomination process at 11am arrived 17 minutes earlier than the stipulated time and he was done five minutes after 11am.
"This is the speed of change in Uganda that you are going to see," Amama who is campaigning under the Go Forward slogan said.
In comparison, President Yoweri who was nominated first arrived three minutes after his stipulated time of 10am. Those who know President Museveni can testify that he really kept time this time round.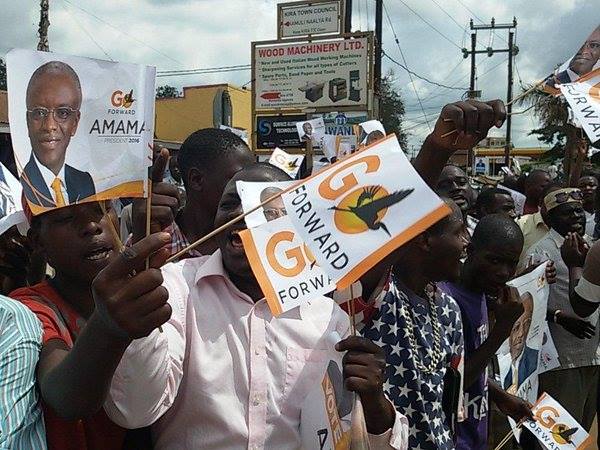 Amama supporters line the road at Kireka. The former Prime Minister was nominated at 11am.
---
Amama also spoke about being nominated just after President Museveni, saying that this is a sign that he is going to replace his former NRM colleague.
"I am happy that I came after President Museveni. This is how things will be," he said.
"In the campaign period, we are going to propose how we will change Uganda," he said when asked by journalists about his plan for the country.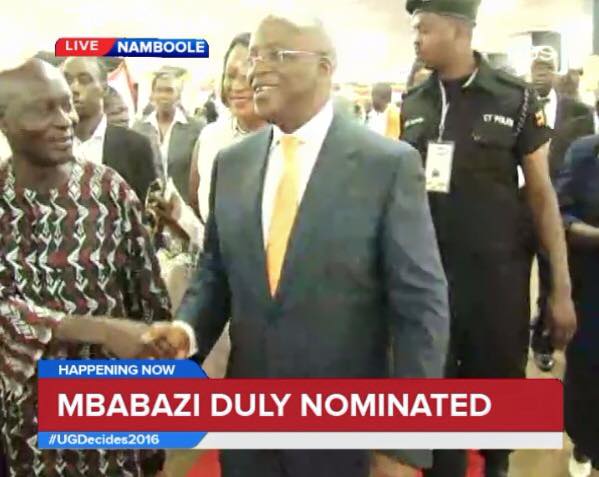 A screen grab from NBS TV's coverage of the proceedings at Namboole.
---
Amama also didn't rule out an alliance with the opposition in future, even if plans to come together under The Democratic Alliance (TDA) umbrella with FDC's Kizza Besigye didn't materialise.
"We had a set back because we didn't achieve coalition in the time we set out to do it, but I will always remain open to working together," he said.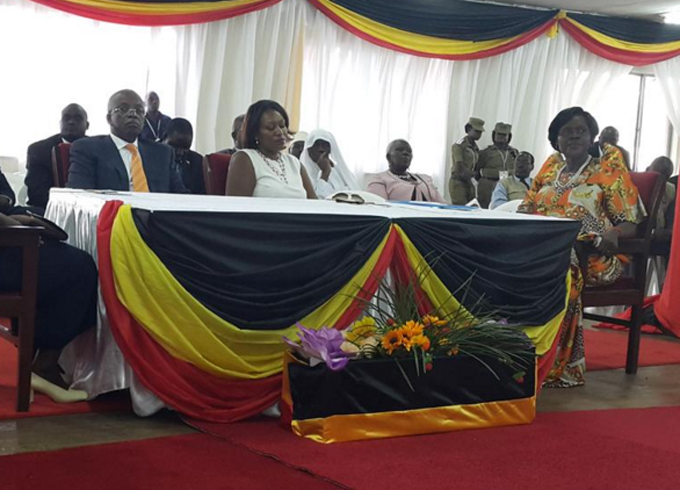 Amama was accompanied by his daughter Rachel as his wife Jacqueline is indisposed.
---
On rumours of his arrest Amama said, "I am here and I am not arrested."
He also said that he is not into trading accusations with his opponents.
"I am not accustomed to that kind of talk. I am civil and I don't abuse anyone. I don't respond to such language," he said.