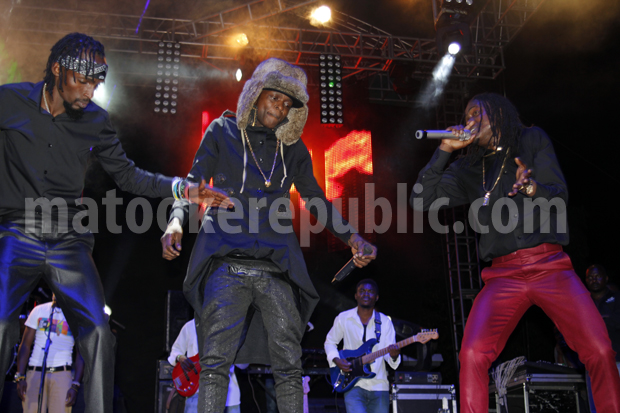 It looks like beef is out-dated. Who knew that Jose Chameleone would share a stage with Radio and Weasel at their concert and even say he is team Goodlyfe?
Jose Chameleone came on stage during Radio and Weasel's concert at Hotel Africana on Friday and did Bomboclat, his collabo with Weasel, that they recorded before the Goodlyfe boys quit his Leone Island Crew.
"I have a surprise, I am Team Goodlyfe for life," Chameleone said, taking off his eskimo hat, revealing a Goodlyfe cap that he was wearing.
Radio and Weasel quit Leone Island in 2008 after Chameleone who was their mentor skipped their maiden Nakudatta concert. What followed were several years of beef with Radio and Weasel realising songs like Chamila that hit at Chameleone.
But it looks like that is now all water under the bridge as Chameleone has said he is a fan of the duo that used to be his back-up singers before they started their own musical journey.
Should we expect a collabo soon?