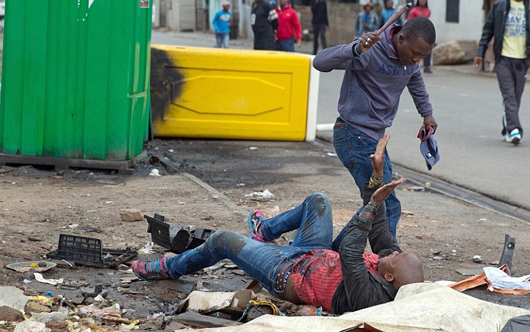 [dropcap]S[/dropcap]everal Africans have lost their lives in the ongoing xenophobic attacks in South Africa. South African nationals in the townships are attacking fellow Africans from other parts of the continent, accusing them of taking their jobs, committing crimes and running businesses at the expense of the nationals. One of the heart wrenching reports was when a photographer for South Africa's
Sunday Times
who had gone to interview foreign nationals following the previous night's looting of foreign businesses in Alexandra, outside Johannesburg came face to face with xenophobia at its worst. The photographer captured images of a gang attacking a Mozambique national Emmanuel Sithole, stabbing him repeatedly in broad day light and leaving him for dead.  The photographer and other onlookers took Sithole to hospital, but he passed away, bringing the death toll of xenophobia victims to six. There are several Ugandans who ply their trade in South Africa like the self-professed rich gang and they are keeping a low profile at the moment. Back home in Uganda, a section of concerned citizens on social media is drumming up a campaign to boycott South African products and companies, so that the owners of the conglomerates can pile pressure on their governments to protect foreign nationals.
"Small and irrelevant as it might seem, I have bought a kabiriti and infused a Vodafone line into it. That will be my major communication gadget until this South African madness ends. Thereafter I might consider going back to my MTN line of over a decade. For now let them pay a small price for what their government back home can't do right," Wanyama Don Innocent, a former Managing Editor of Daily Monitor posted on his Facebook wall.
MTN seems to be facing the biggest pinch as some individuals have given up the lines of the telecom service provider that has South African roots. Some others are saying they will not be shopping in Game and Shoprite. Below are some of the online posts.