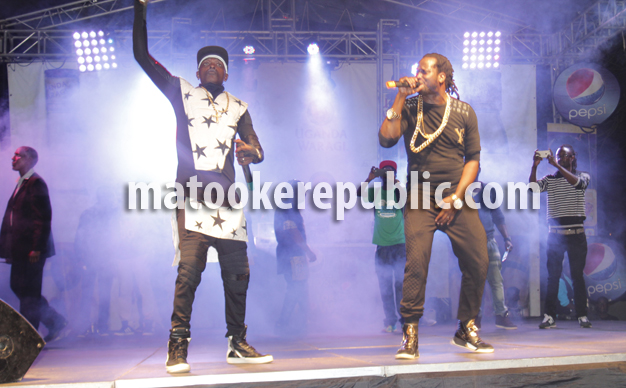 It was an ecstatic moment as fireworks lit the skies at Sheraton Gardens, with two musical giants Bebe Cool and Chameleone on stage to welcome 2015.
This was the second time the two stars were appearing on the same stage in less than a week, having first performed together at Bebe Cool's Tondeka E'Kiwatule show on Boxing Day, after more than a year of bickering.
Bebe Cool was on stage first, doing his songs like Ntuyo Zange and the runaway hit Love You Everyday before inviting Chameleone at the stroke of midnight. The two did their Bogoloka (remix) collabo amidst ululation from the crowd that was both excited to see the two singers on one stage and the fireworks display.
Chameleone wasted no time in announcing that a musical battle between him and Bebe Cool is on the cards this year.
"I am a musical beast and I'm going to kill these Gagamel guys in the battle," he said.
The top musicians in the land have in the past three years cashed in on their beef by organising musical battles. Chameleone had a battle with Bobi Wine, while Bebe Cool had battles with Bobi Wine and the Goodlyfe Crew. The remaining battle was between Bebe Cool and Chameleone but it has been confirmed though a date has not yet been set.
Back to the New Year concert that was sponsored by Uganda Waragi and Pepsi, and organised by Sabavulu Balam, Chameleone also introduced his son 11-year-old Abba who did his Game Over debut track.
There were several other performers who took fans through 2014's biggest hits like Sheeba who did Twesana, Ice Cream, Mundongo and Go Down Low, plus Desire who was received by deafening cheers as she came on stage performing her Ekitone hit.
Iryn Namubiru decided to mix old songs like Kabi Ki with new material that she is releasing this year.
However, the event that was well organised didn't go without glitches; like the scuffle of Chameleone's DJs with Nince Henry's DJ, just a few minutes to midnight that took security to put them all off stage and invite Bebe Cool to perform.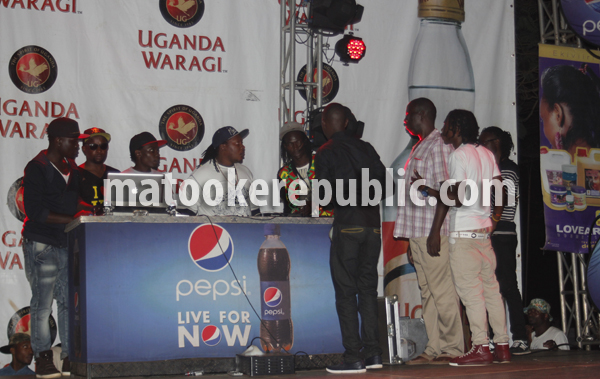 A hapless Nince Henry was left standing sheepishly on stage when the Leone Island DJs switched off the music, because it was just a few minutes to midnight and Chameleone's DJs wanted their man on stage at the prime hour.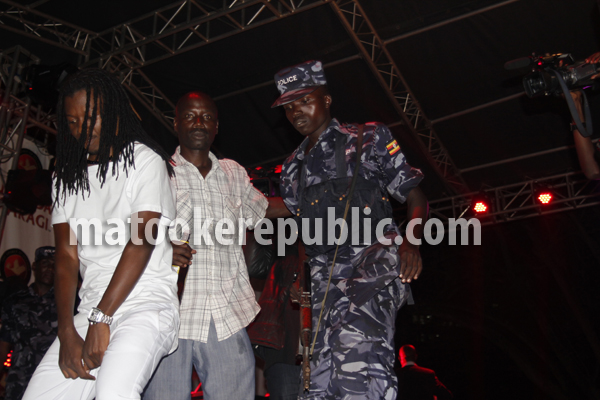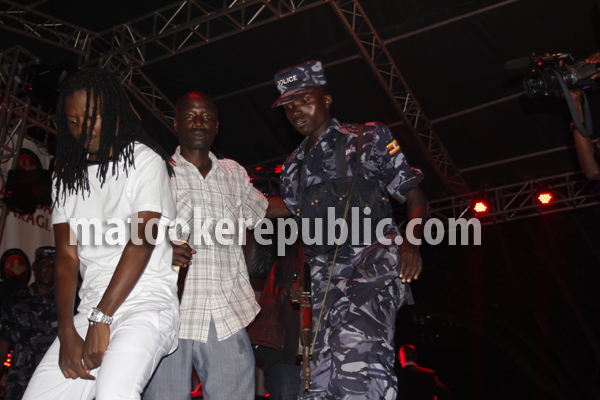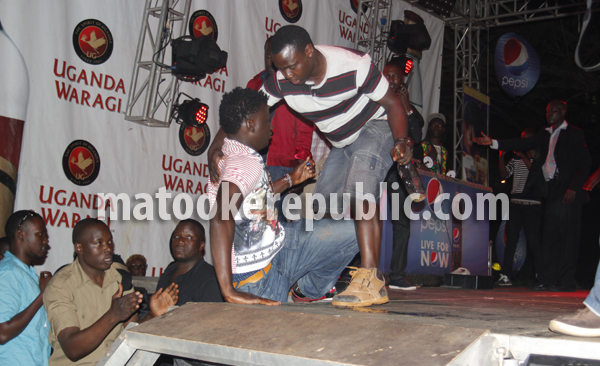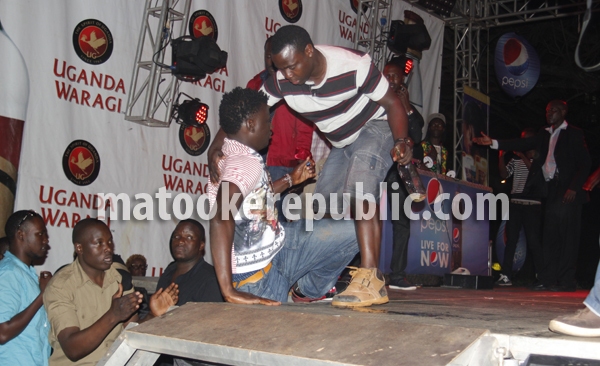 The leone Island boys were thrown off stage, but they still got what they wanted because Bebe Cool who took over, invited Chameleone on stage at midnight, sending the crowd that parked Sheraton Gardens to rafters into a frenzy.
Click here for fireworks and other photos from the concert.
Happy New Year.