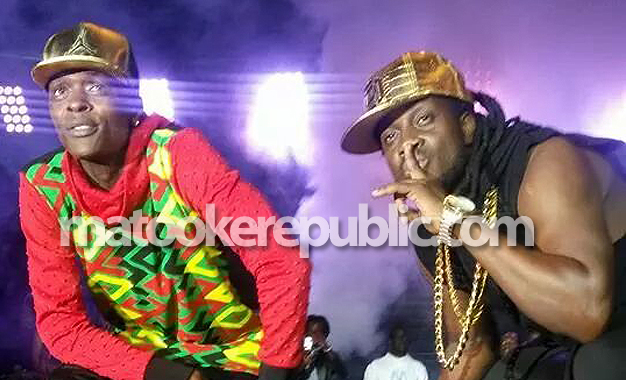 The relationship between top singers Jose Chameleone and Bebe Cool can no longer be referred to as beef. It is just salads. We have lost count of the number of times the two have broken up and made up. The pair who have not seen eye to eye the whole of this year appeared on the same stage at Bebe Cool's annual
Tondeka Ekiwatule
show at Kiwatule Recreation Centre on Boxing Day. Chameleone had been advertised as one of the performers at the show but no one believed Chameleone could perform at Bebe Cool's event because of the bad blood between them. The last time Bebe Cool and Chameleone had met was outside Club Rouge in late 2013 and Bebe Cool said Chameleone had punched him! We have lost count of the number of times the pair that started their musical journey in Nairobi have fought and made up. But it all started when they both became big in Uganda in the early 2000s and the battle for supremacy started. Bebe Cool teamed up with Bobi Wine (now his enemy) and they recorded a song
Funtula
hitting at Chameleone, saying he was a shameless man being in a relationship with a much older woman (Dorotia) because of her money. Chameleone's reply was
Nekolera Mali
that became an instant hit and he also followed it up with
Dorotia
in praise of his elderly Mzungu lover. The two made up again and broke up again countless times, before they shocked us with a reunion collabo
Bogolako
, that was a remix of Bebe Cool's popular 2010 song. It is the same
Bogolako
collabo that announced Chameleone's arrival on stage at Kiwatule, sending fans wild when the hoarse voiced singer jumped on stage.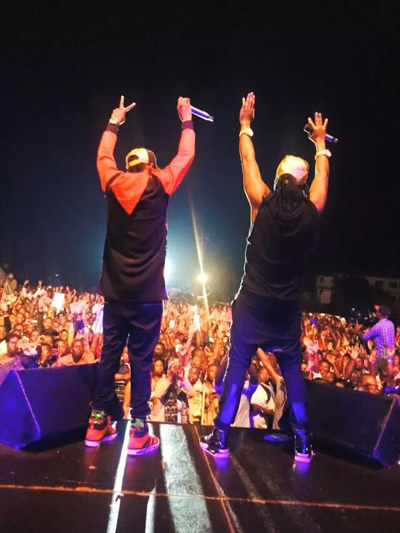 "Joseph meets Moses," Chameleone updated his Instagram feed shortly after his performance. Maybe it is the Christmas spirit of friendship or the two have something cooking because they have mastered the art of using their enmity or friendship to make hits money for the more than 15 years they have dealt with each other.
Click here for more photos from the event.