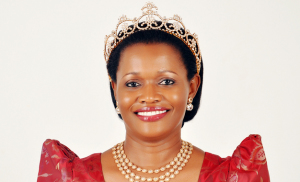 Ugandan musicians are fond of giving themselves larger than life titles like heavyweight, big size extra-large and so on, up to the extent of calling themselves living legends!!! But the Nnabagereka of Buganda, Sylvia Nagginda has some advice for them, that they should remain humble, focus on doing good music, helping those around them, and in turn people will call them legends, if they are deserving.
"You are chosen to be a legend by others not by yourselves. Make good music and make meaningful contribution to society and then you will be on your way to becoming a legend," the Nnabagereka said, while speaking at the Elly Wamala tribute concert held at the Kampala Serena Hotel on Friday.
"Legends live behind a legacy, not monetary, but moral value. A legend is a person of extraordinary achievement and that was Wamala," she said at the event to commemorate 10 years since the passing of one of Uganda's biggest musicians of all time.
The Nnabagereka recalled her encounter with Wamala, when she was called to hand over a Lifetime Achievement Award to him at the 2003 Pearl of Africa Music Awards. "I used to listen to him as a child, and I was expecting to see an elderly man, but I was pleasantly surprised to see this youthful gentleman, a genius at telling stories that we all wanted to listen to."