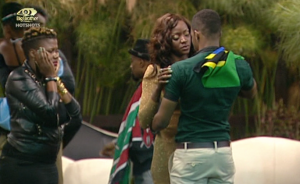 Bebe Cool turned out to be a bad omen for Ugandan Big Brother Hotshots housemate Ellah as she was evicted on the same night he performed.
Bebe Cool brought down the house kicking off the show with his Love You Everyday hit.
First to be evicted were Sheila from and Trezegah with Ellah breathing a sigh of relief, but when IK returned for the second round of evictions, her name was read, ending her hopes of winning the $300,000 (Shs808m) jackpot.
Goitse was also evicted.
"I wanna punch Macky 2," Ellah said after being evicted, because she had survived being nominated and he used his Head of House powers to put her in the line of fire.