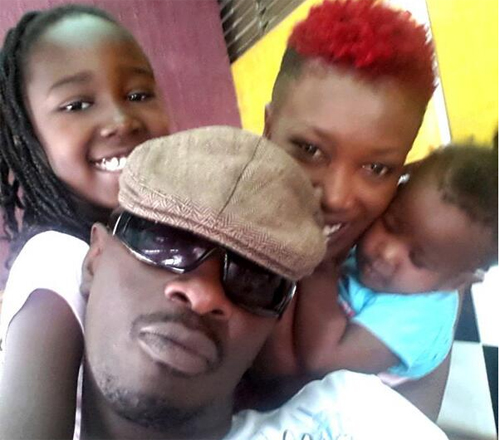 Social media has been abuzz with rumours of a breakup between Kenyan singers Nameless and Wahu. Ugandan radio stations have even broadcast the story that appeared on a Kenyan blog, leading to heartbreaks of several Ugandan fans of the singers.
The blog reported that Nameless filed for divorce after DNA results showed that he was not the father of their second born daughter.  At Matooke Republic, we are not in the business of publishing rumours and you can always rely on our website for the truth in a web of social media lies. We reached out to Nameless and he said the story was the creation of a website that was using their name to get traffic. He said such stories make their relationship stronger.
"I normally don't respond to cheap/ false gossip about me or my wife. In our business you have to be ready for it. However I will make an exception this time for two main reasons. One is because of the genuinely concerned people who want to know the truth and secondly because I think the blogger who came up with this false story about my little child and a paternity test went too far," Nameless said.
"It is sad and disappointing how far some people can go to get traffic to their blogs, to the point of creating a whole fabricated story, and more so, drag our children into this falsehood," the singer added.
"So just to be clear, this whole story about us getting a divorce making rounds on social media is just a made up story by some blogger who wanted to trend. Funny thing about rumours such as these is that they actually make my wife and I stronger and closer, especially when some people try to attack our family," the singer who recently released a Luganda song Butterfly/Kiwojolo said.
"Apart from these unfortunate lies, I have a lot to be thankful for. Two beautiful healthy daughters and a strong supportive wife, amazing public support, and a career that I love. Bless!"
There you have it.